This article may contain affiliate/compensated links. For full information, please see our disclaimer here.
Going On a completely Thai tour in Chiang Rai, Thailand
As we thumped over a speed bump leaving the airport I heard my name pop out from the indiscernible Thai followed by an eruption of laughter. The women on either side of me in the van both turned and smiled. I returned their looks with a small confused grimace, wondering what the hell I had gotten myself into. I had been invited on a 3-day trip to Chiang Rai, Thailand, and this was just the beginning. 
What I hadn't realized when I agreed to the trip was that I'd be joining an entirely Thai tour group. Sunee, our guide, and her husband Ton, our driver and photographer, invited me because we'd connected at the Mekong Tourism Conference in Nakhon Phanom, Thailand five months prior. Thanks to social media they knew I was in Thailand again so they reached out to offer me the last available spot on a trip they were running.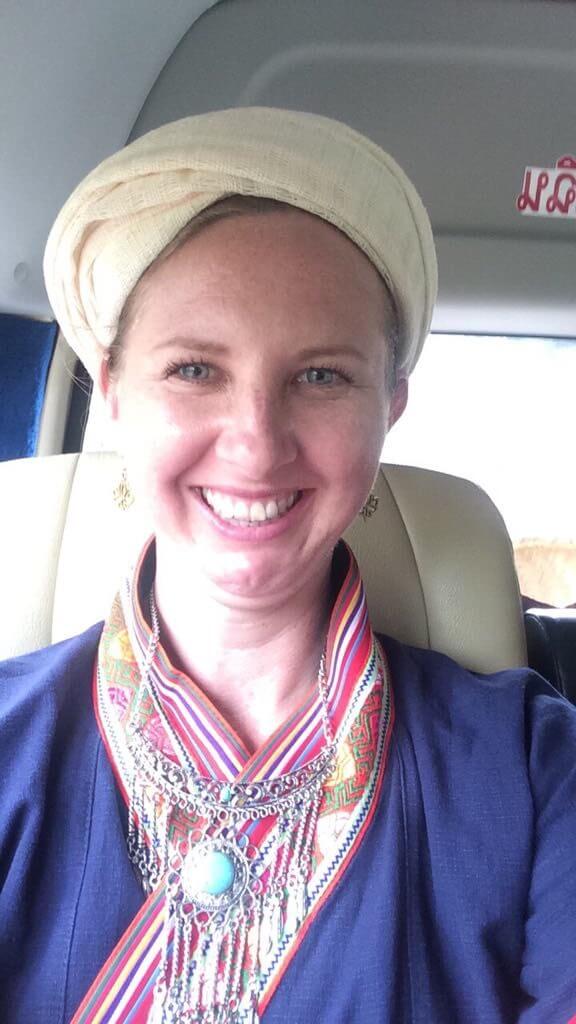 This is just the kind of thing I end up getting myself into with my "say yes to life" attitude. Two days later I was snapping the selfie above in the back of the van. How quickly life can change.
Sunee and Ton, run their own private tour company Plan Vacation Asia. They travel to interesting places, leading groups of foreigners and Thai nationals who want to experience local and less touristic areas of Thailand. 
There are so many things to do in Chiang Rai. Stevo and I spent some time in Chiang Rai in 2015 and I knew it was a part of Thailand I wanted to explore more. Stevo was up to his ears in comedy gigs in Bangkok, so the timing was great for me to get away for a bit on my own.
Where is Chiang Rai, Thailand?
Chiang Rai is the northernmost province in Thailand, bordering Myanmar and Laos. It is a few hours north of Chiang Mai, a popular city for digital nomads. You may have heard about Chiang Rai in the news in 2018 when a team of Thai soccer players got trapped in a cave there.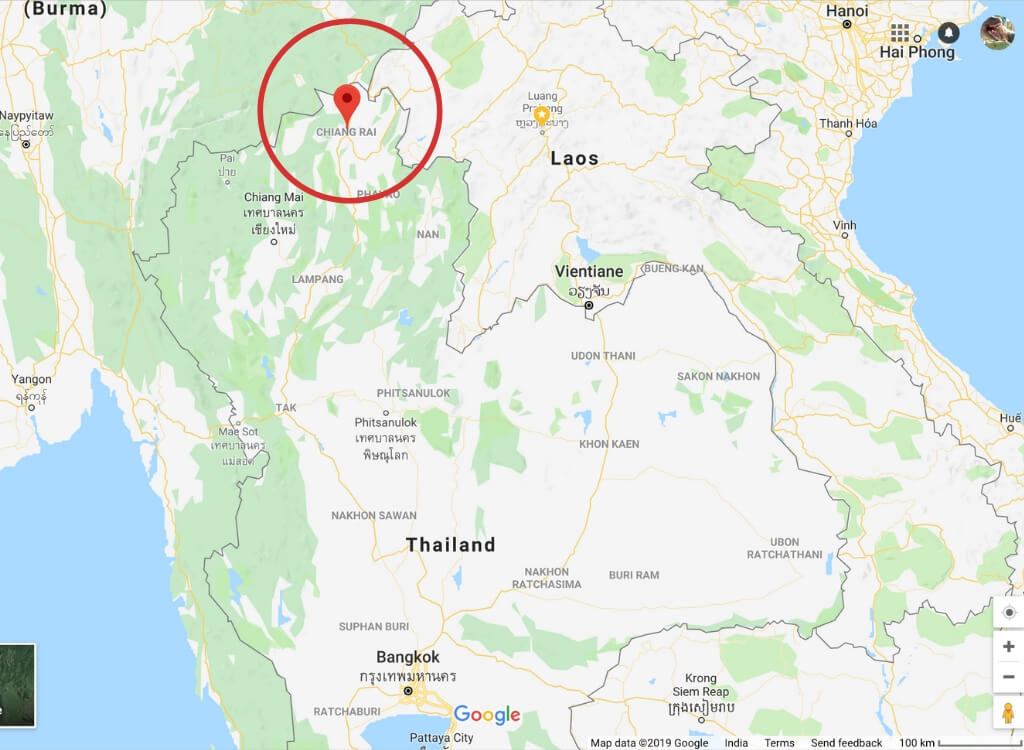 Getting to Chiang Rai
The flight from Bangkok to Chiang Rai was a quick 1 hour and 20 minutes. We flew over beautiful scenery along the way. The vast majority of Thailand is farmland and northern Thailand is especially green and lush.
You can also reach Chiang Rai by bus or private car from many cities around Thailand and Laos.
Chiang Rai is a great next stop after visiting the more popular northern city, Chiang Mai. The journey from Chiang Mai to Chiang Rai is less than four hours by bus.
Our Chiang Rai Tour Group
Like all of Sunee and Ton's tour groups, our group was small. There were seven women from Bangkok, all between the ages of 50-75, and me. Three of the women were sisters who often traveled together plus one of their close friends. The other three women have been friends since primary school and make it a point to travel together every year.
It was lovely to meet such vibrant women who love to travel and have sustained beautiful, long-term friendships. I felt privileged to join them! 
As we drove away from the Chiang Rai airport, Sunee was on the bus microphone facing all of us ladies in the back of the van, speaking Thai. The women were laughing and having a great time. I wished I could understand because she had them rolling! 
Even though this was an all-Thai tour group, it turned out that I had nothing to worry about. All of the women were sweet and friendly. They spoke English to me as much as they could which I really appreciated. They even taught me some Thai words.
Sunee said she was excited to have me on this particular tour because we were going to the Kathina festival, an annual Theravada Buddhist festival. The biggest Kathina festivities in Chiang Rai province take place at Thakham Sridonchai Temple (what a mouthful!) in Chiang Khong city, where we'd be going.
I was so grateful to Sunee for inviting me on the trip. The Kathina festival was stunning! 
But first, there were lots of other things on our itinerary.
What We Did on Our Tour in Chiang Rai, Thailand
I don't want to give away Sunee's whole Chiang Rai trip plan. I'll just highlight some of the things we did along the way. She planned lots of great activities that were not typical tourist attractions, though we hit some of those as well.
Stevo and I rarely go on guided tours. But after this trip, I'd definitely try it again. I certainly wouldn't have visited all of the places we went to in Chiang Rai if I hadn't been on this trip and I definitely learned and saw more than I would have on my own. 
Art Bridge Chiang Rai
We visited the Art Bridge Chiang Rai to see their exhibits.
There is a new mural at Art Bridge Chiang Rai that was painted as a tribute to the heroes who rescued the soccer team from the cave. It includes Saman Gunan, the Thai Navy SEAL who died during the rescue mission delivering oxygen to the soccer team and their coaches in the cave.
Biggest Bamboo Buddha in Thailand
We stopped to see the largest Buddha made from bamboo in Thailand. In fact, the entire temple is made from bamboo!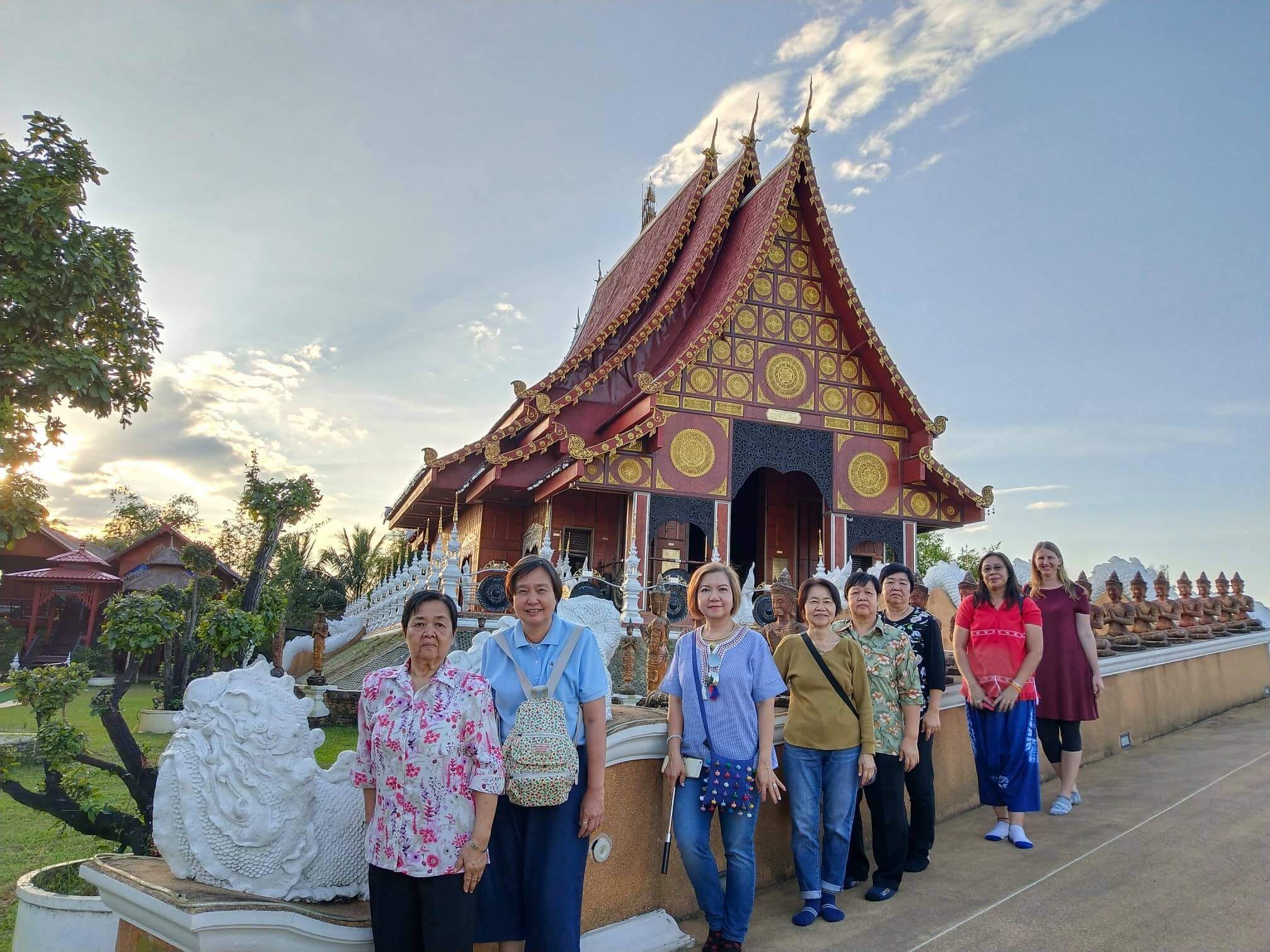 The senior monk at the temple had seen a bamboo Buddha when he was traveling in Myanmar and wanted to make one in Thailand.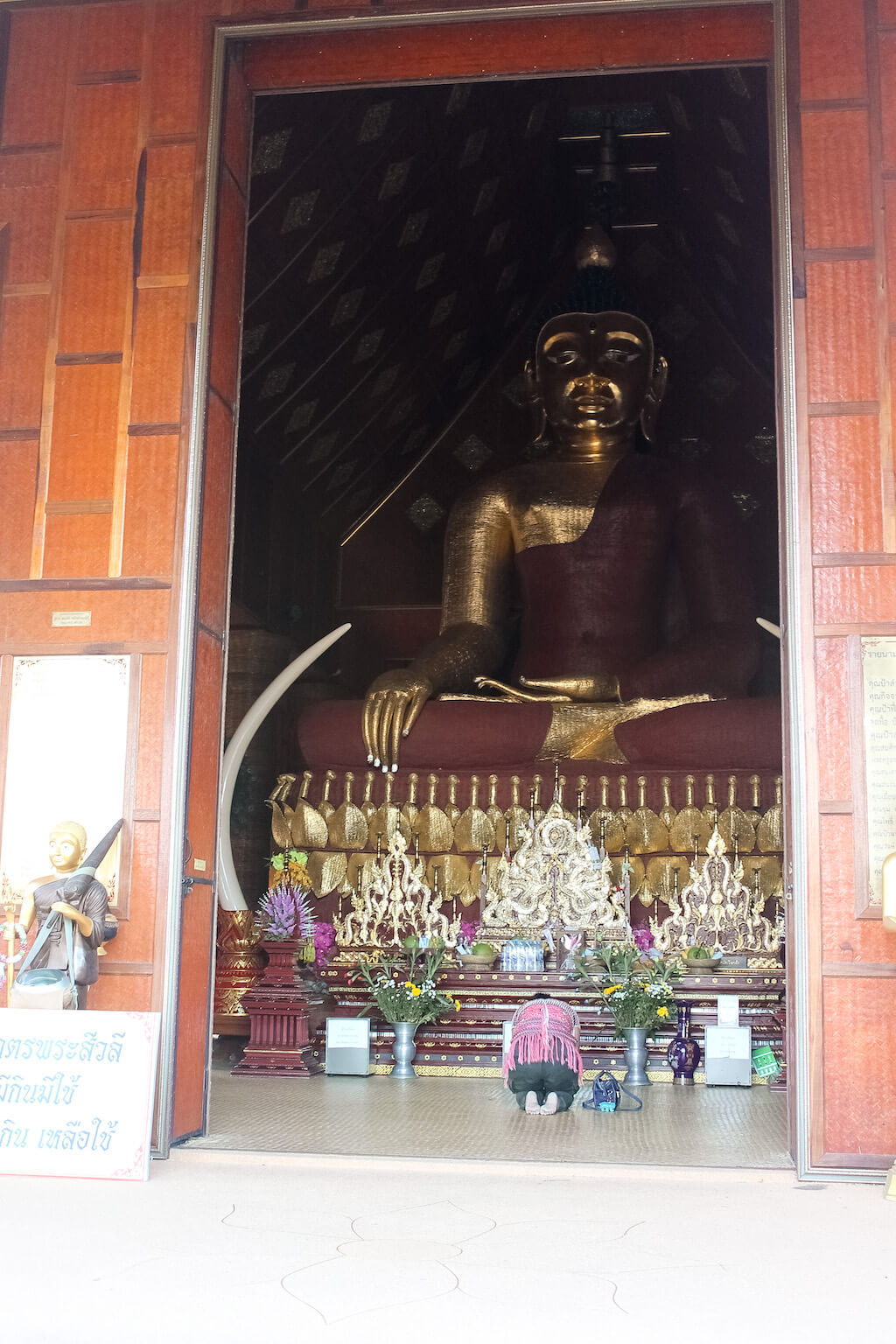 He and two other monks began building the bamboo Buddha on July 29, 2009. They took a vow of silence during the entire 99 days it took to build the Buddha.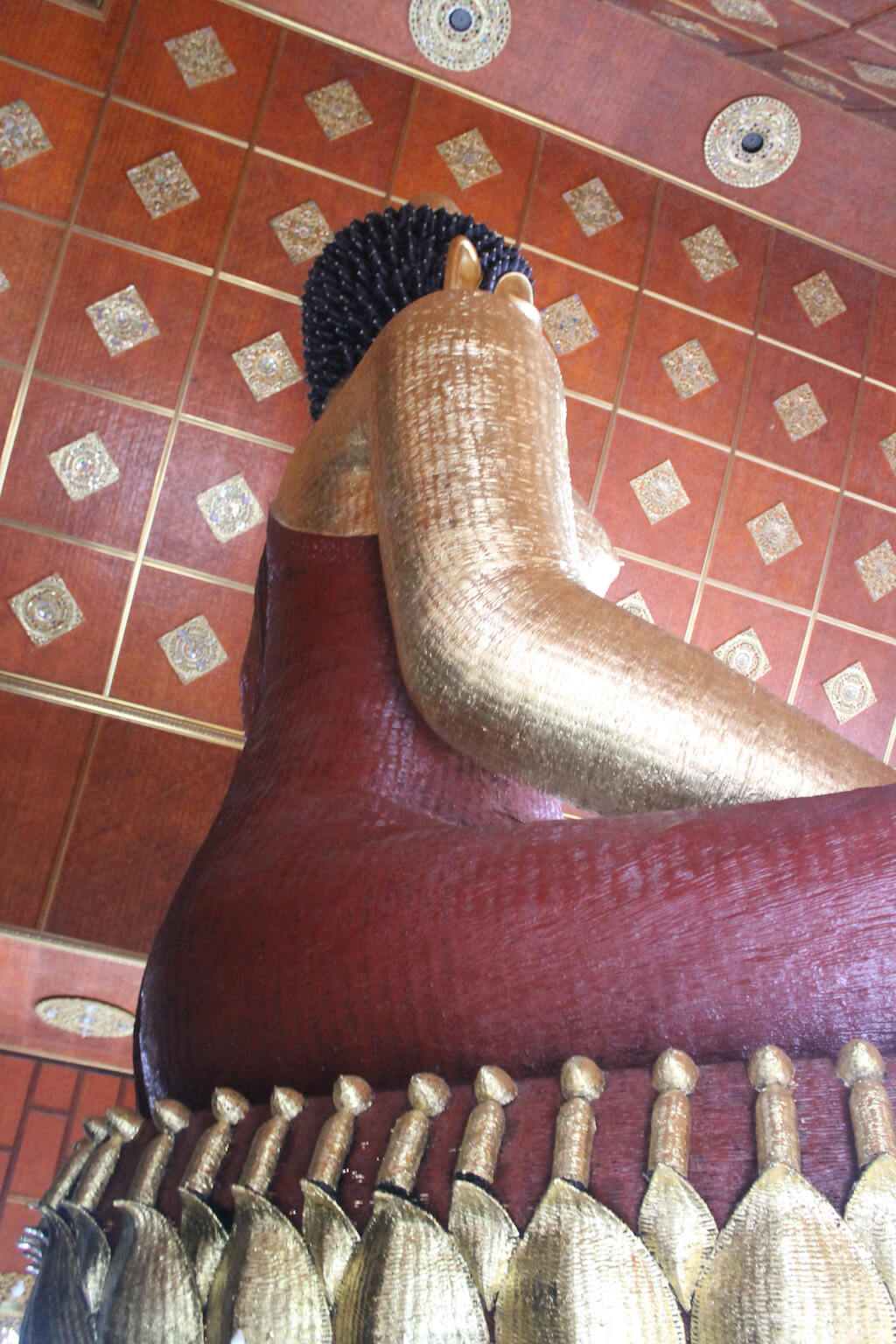 There are two small doors on the bottom area of the Buddha so you can walk inside to see how it was built. 
Snacks at a Chiang Rai Tea Plantation
We stopped at a scenic tea plantation for a snack.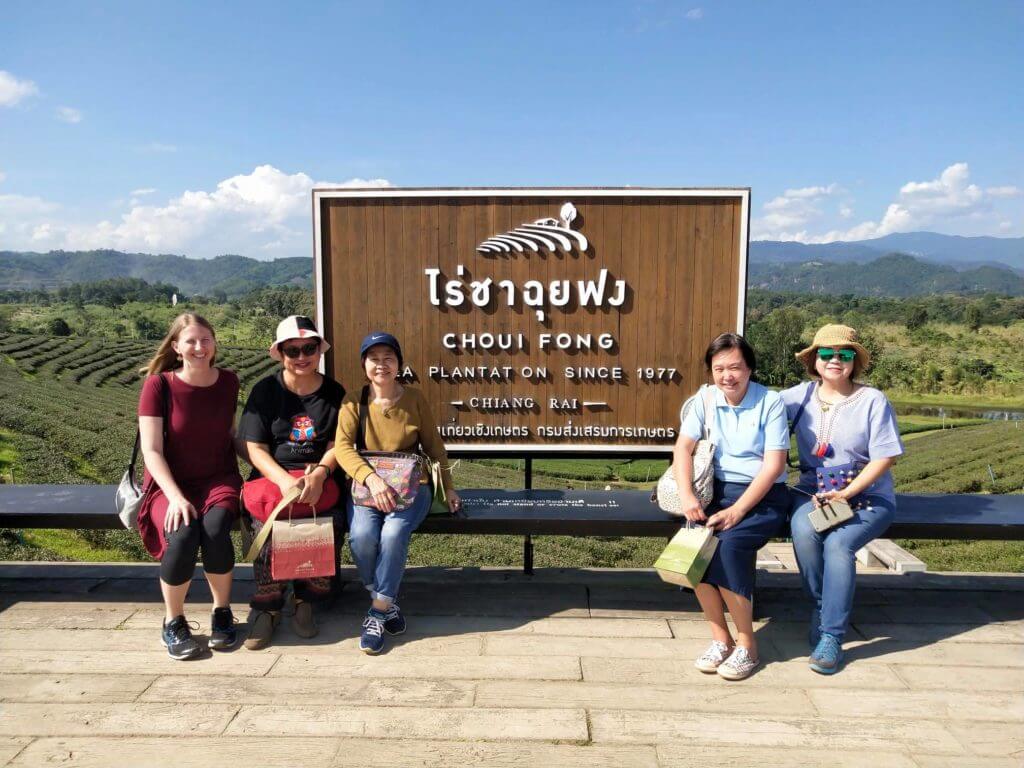 The green tea cheesecake and green tea frappuccino were tasty treats.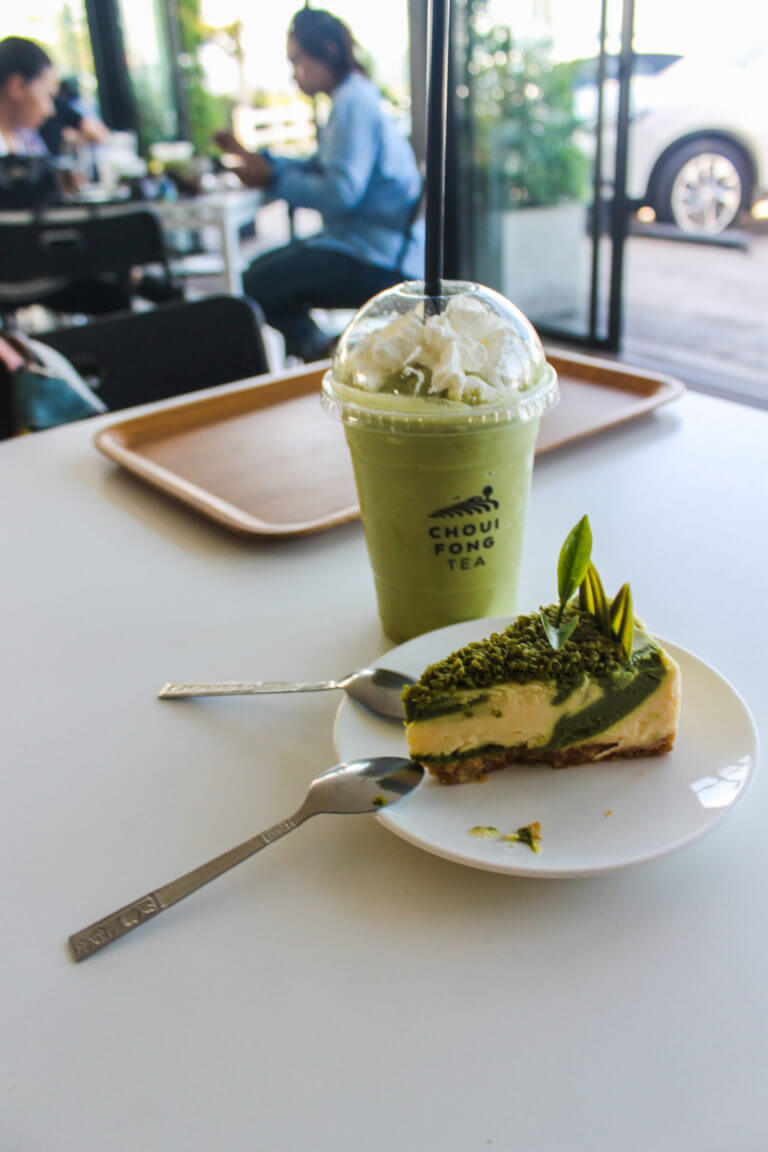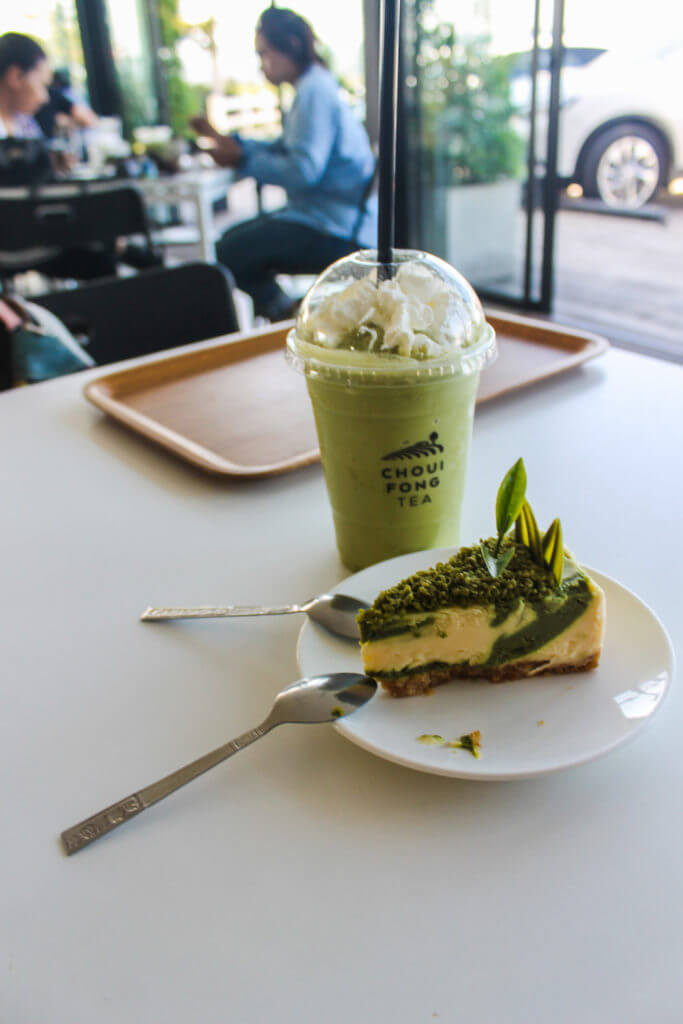 The Thai tea shaved ice dessert was good too.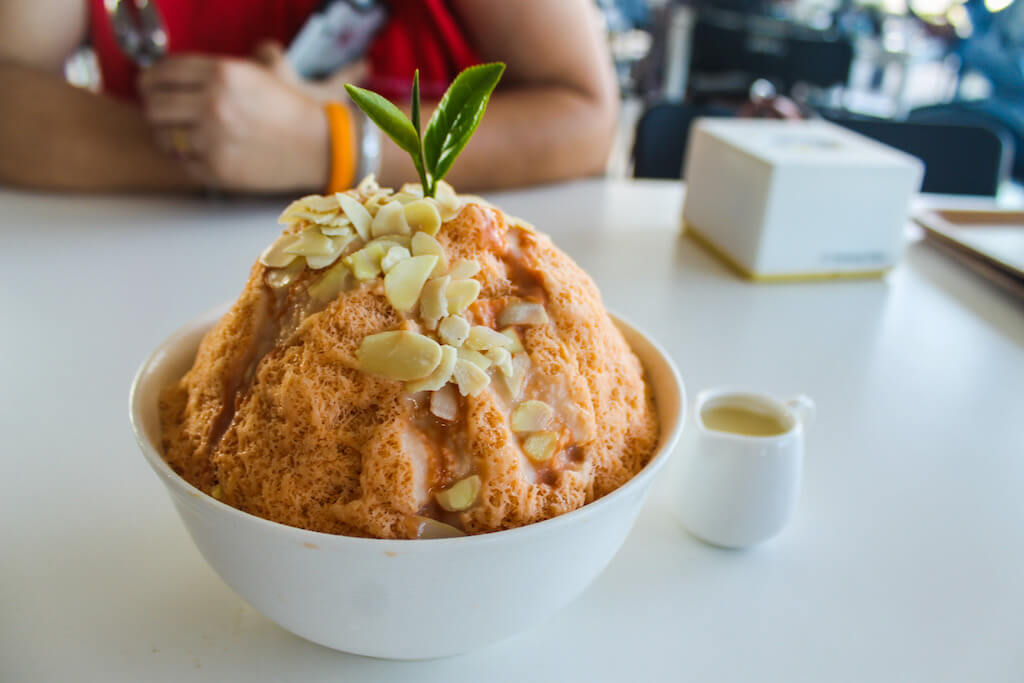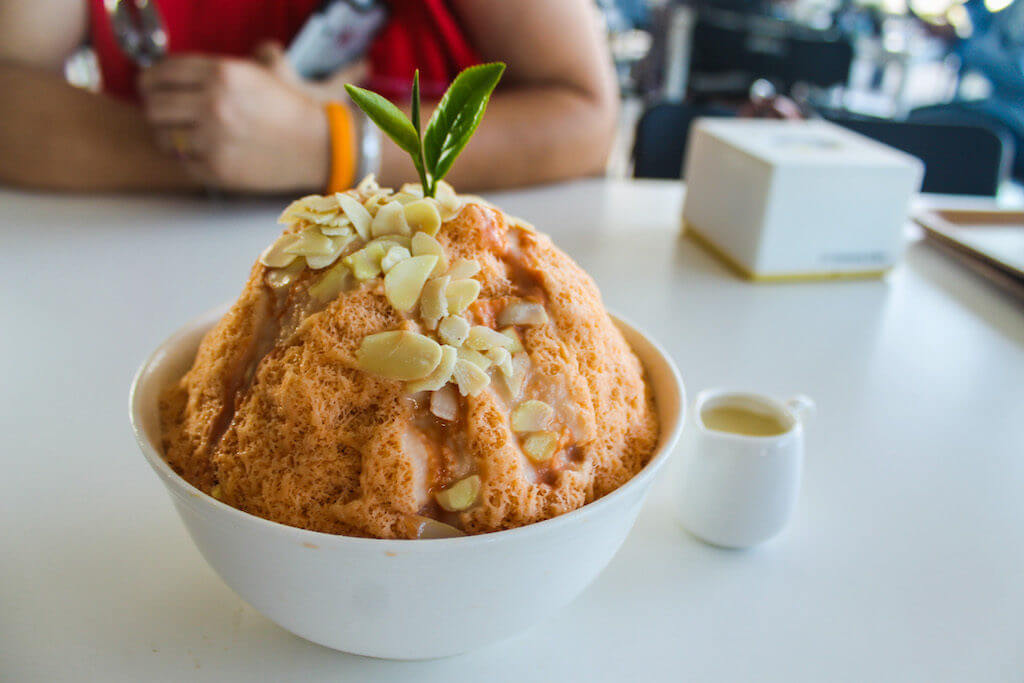 Union of the Hill Tribe Villages and Long Neck Karen Tribe
We went to the Union of Hill Tribe Villages and Long Neck Karen where five hill tribes, including the longneck Karen tribe, live. To be honest, visiting places like this where people are on display is not something Stevo and I seek out. Preserving the heritage and way of life of these ancient tribes is a complicated issue.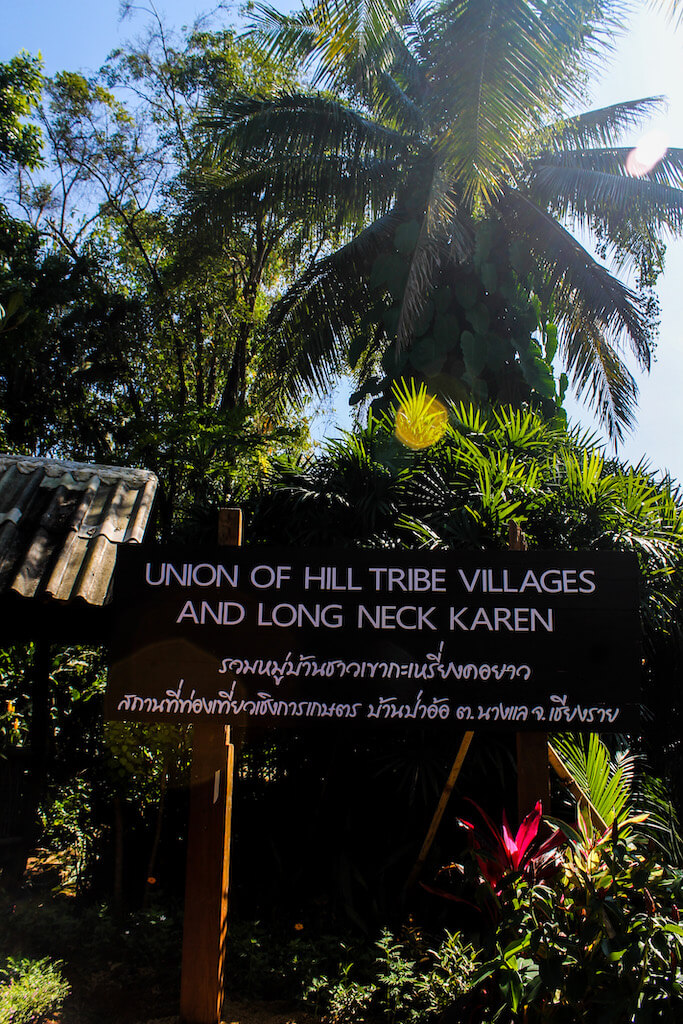 As it was explained to me, the village-dwelling hill tribe people have chosen to come to the Union of Hill Tribe Villages because they can continue their traditional crafts and earn money through tourism.
Otherwise, they would not have the opportunity to sell their crafts. Their home villages are high up in the mountains and not accessible to most people.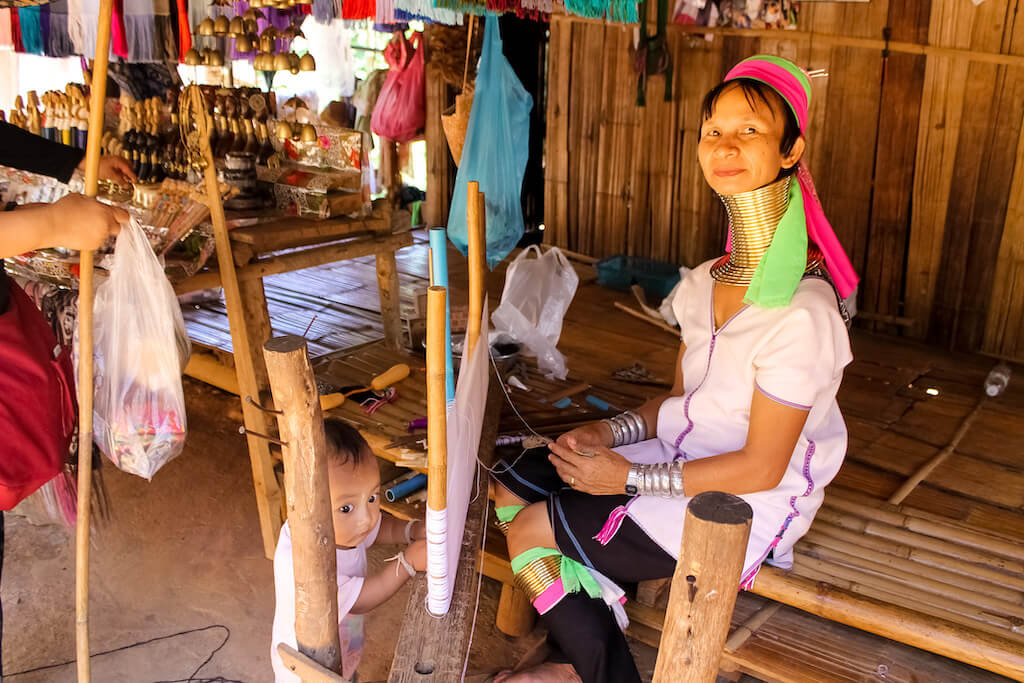 Because the Union of Hill Tribe Villages and Longneck Karen exists, travelers are able to meet the hill tribe people and learn more about their way of life.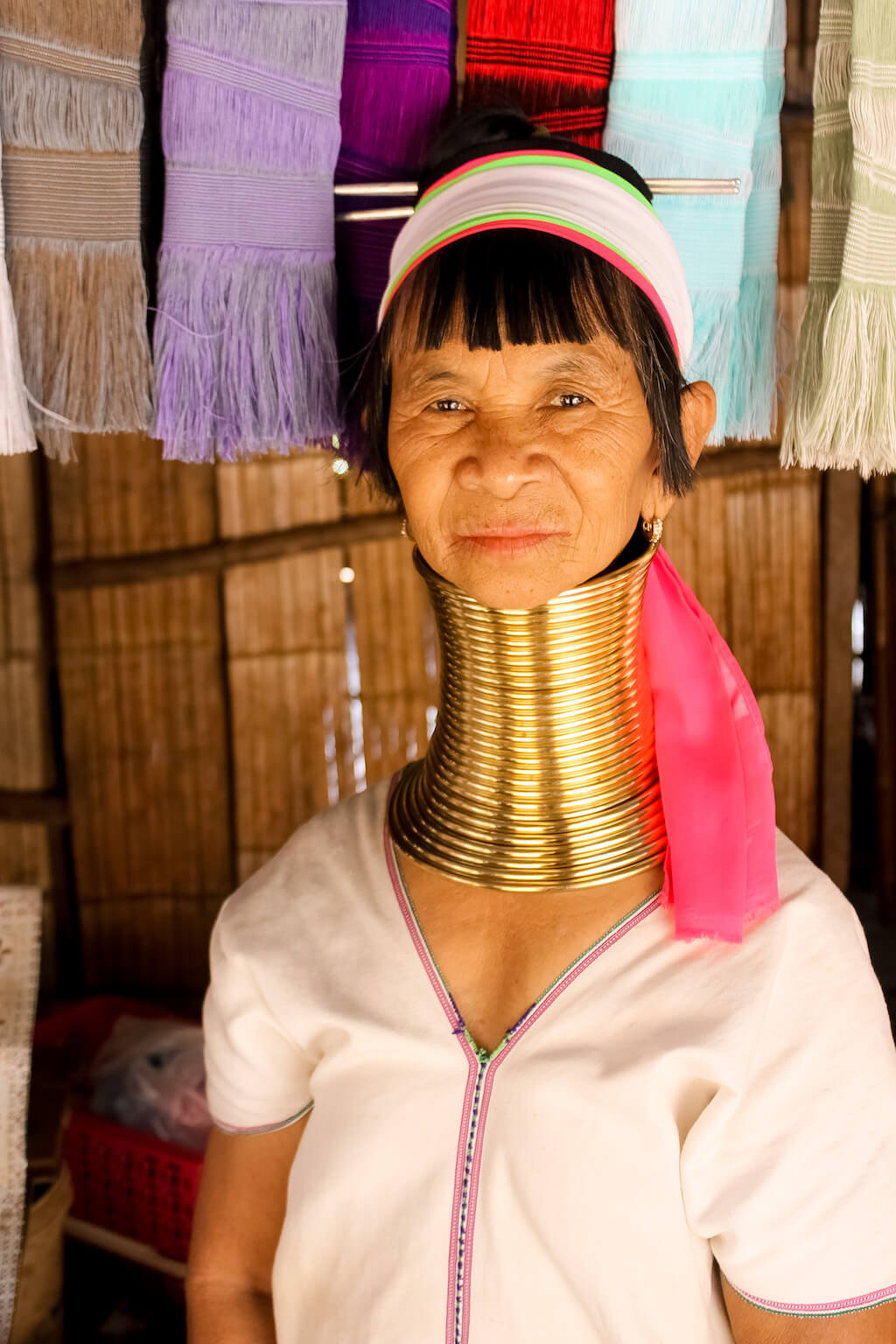 I can understand these explanations. But in the end, I left questioning the merits of cultural tourism that involves people. I'd love to hear any perspectives you may have related to this, so please feel free to share in the comments.
Chiang Rai Hill Tribe Museum
After the tour, I went to the Hill Tribe Museum, located in the center of Chiang Rai city. I highly recommend the museum if you are thinking about doing any activities involving people from the hill tribes. It's a small museum and won't take more than an hour to go through. There is a lot of great information about the different hill tribes, their history, and how tourism has impacted them over time.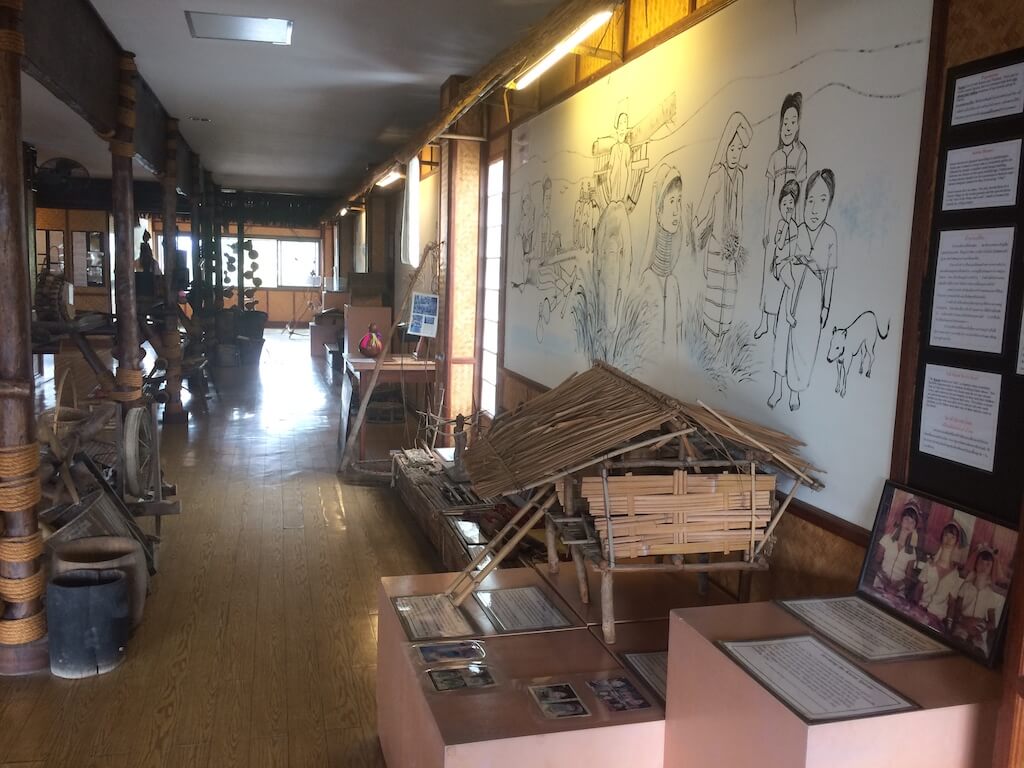 The Top of Thailand
We visited the northernmost point of Thailand, on the border of Myanmar.
An Unexpected Stop
One thing I loved about the trip is that Sunee and Ton create their tours with the goal to support businesses in the local community wherever they go. From regional snacks made by local vendors to traditional living arts; when they find someone or something interesting they add it to their tours whenever possible.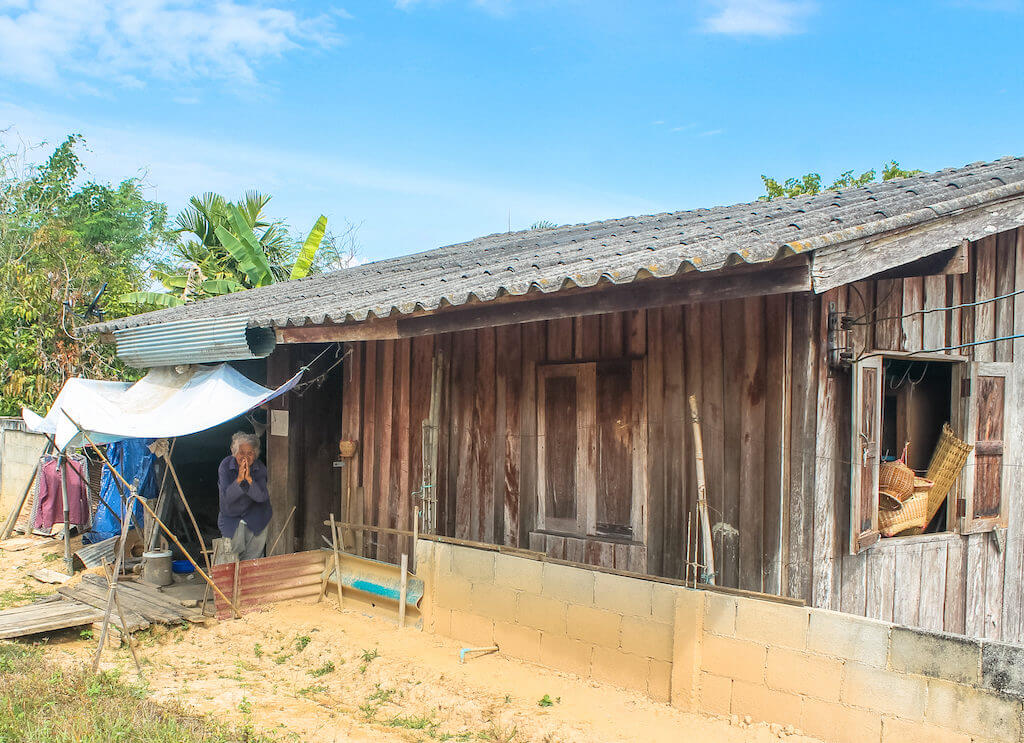 Sunee had noticed this old woman working outside when they were driving through this particular village on several previous trips to Chiang Rai. One day she stopped to talk to her. The woman is 86 years old, lives alone, and still works every day weaving baskets and hats out of natural plant materials.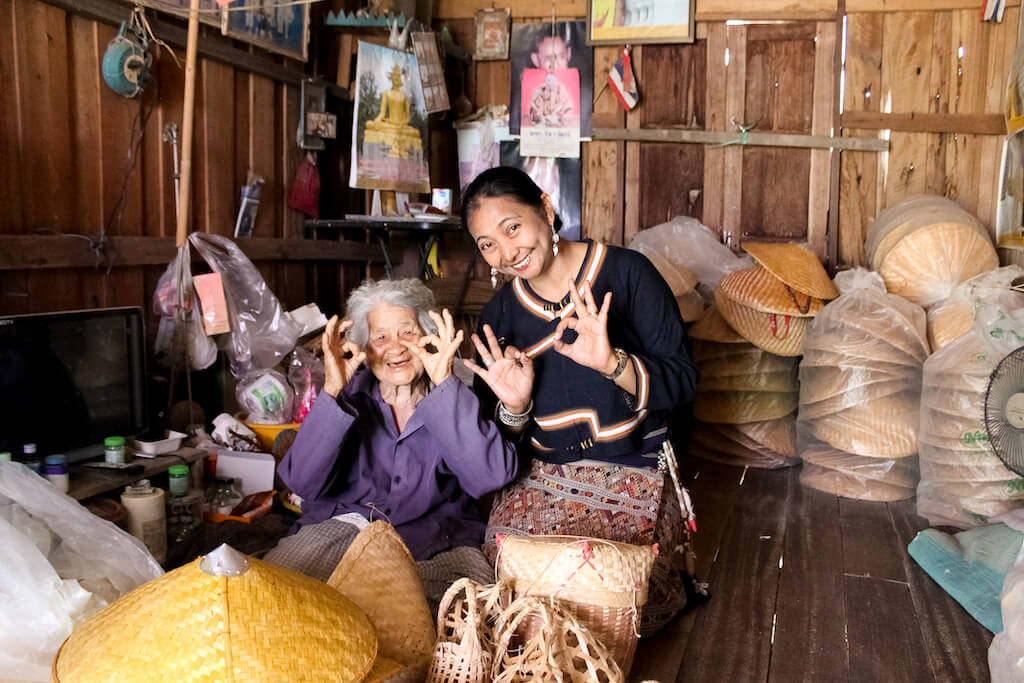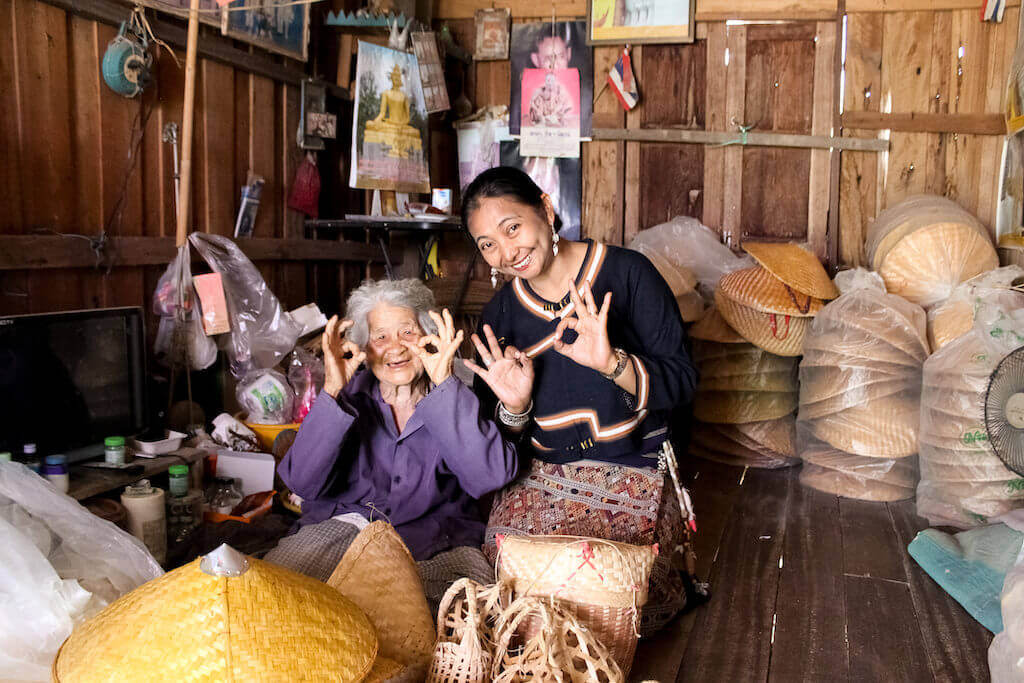 Our group had the privilege to meet her and go into her home to see her work. None of us left empty-handed and meeting her was an experience I"ll never forget.
Learning About Tai Lue Textiles
I feel fortunate that we got to learn about several traditional Thai crafts during our Chiang Rai tour, some of which are dying arts. Our stop at the Sukhawadee Tai Lue Textiles center was especially interesting. We got to learn about the art of making the beautiful clothes worn by the Tai Lue people, an ethnic group of Thailand, China, Laos, Myanmar, and Vietnam.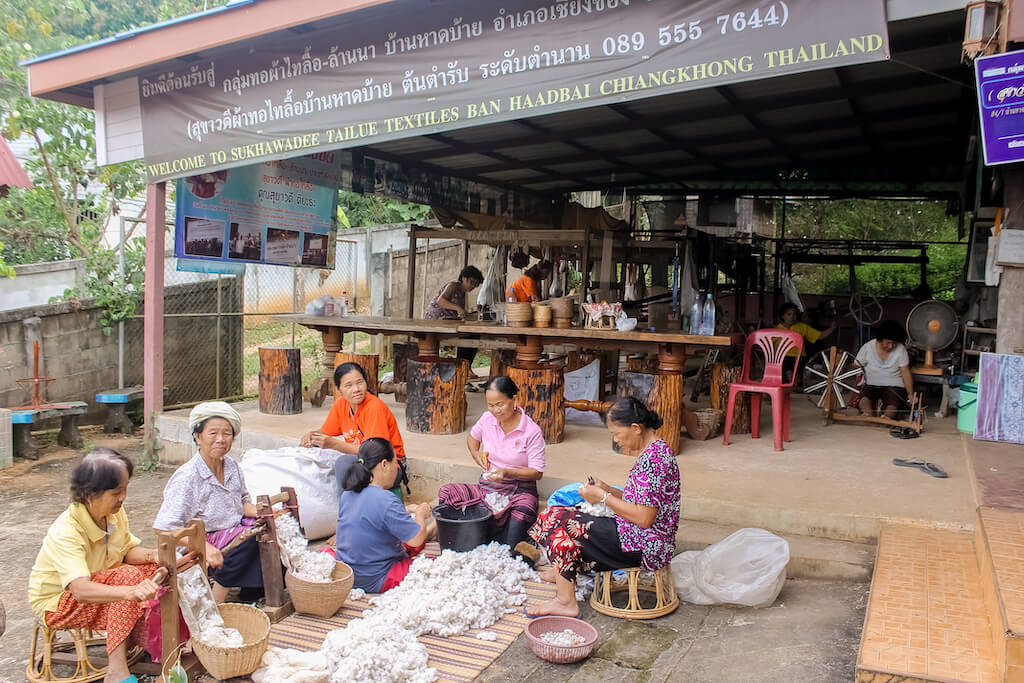 We got to see the entire process of making the Tai Lue people's traditional woven textiles from beginning to end. After picking the cotton, it gets fluffed using a bow-like tool until it separates so it's fluffy and airy.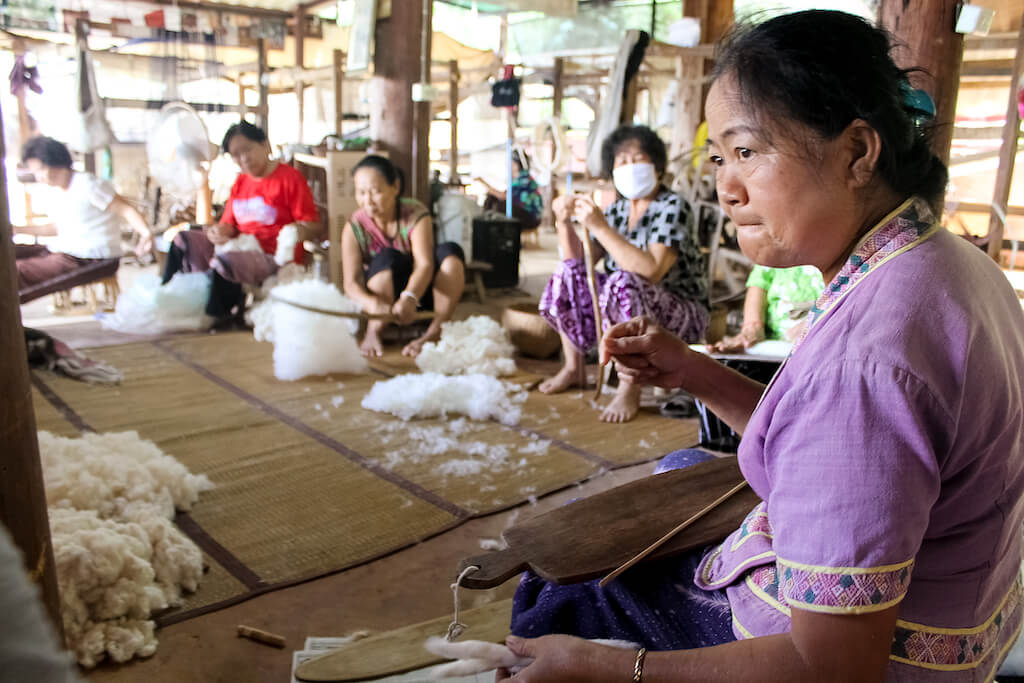 The cotton is then rolled on a board around a stick so it becomes long and thin.
The long pieces of cotton are pulled on a machine until they are very thin. The cotton is dyed in different colors and then spooled by hand using a wooden spindle.
Next, it's time to weave! The weavers use intricate patterns made from a series of strings set up in the large wooden loom. The strings are adjusted frequently to create the designs.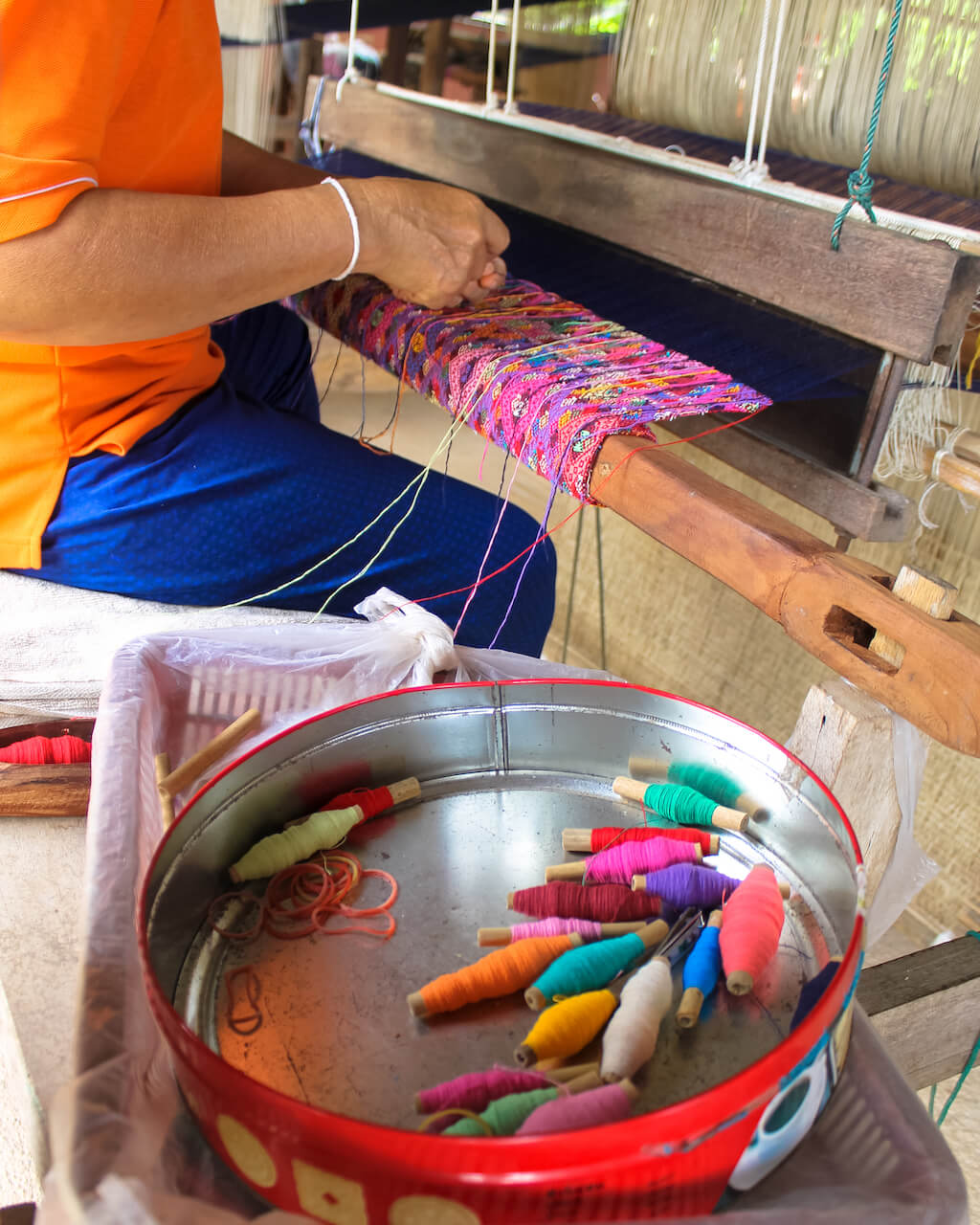 The whole process is extremely complicated. I tried out weaving in 2017 on a traditional loom at the Ock Pop Tok center in Luang Prabang, Laos, and it is seriously hard work! I have so much respect and admiration for the women who weave. Some of the pieces are very complex and can take weeks to months to complete.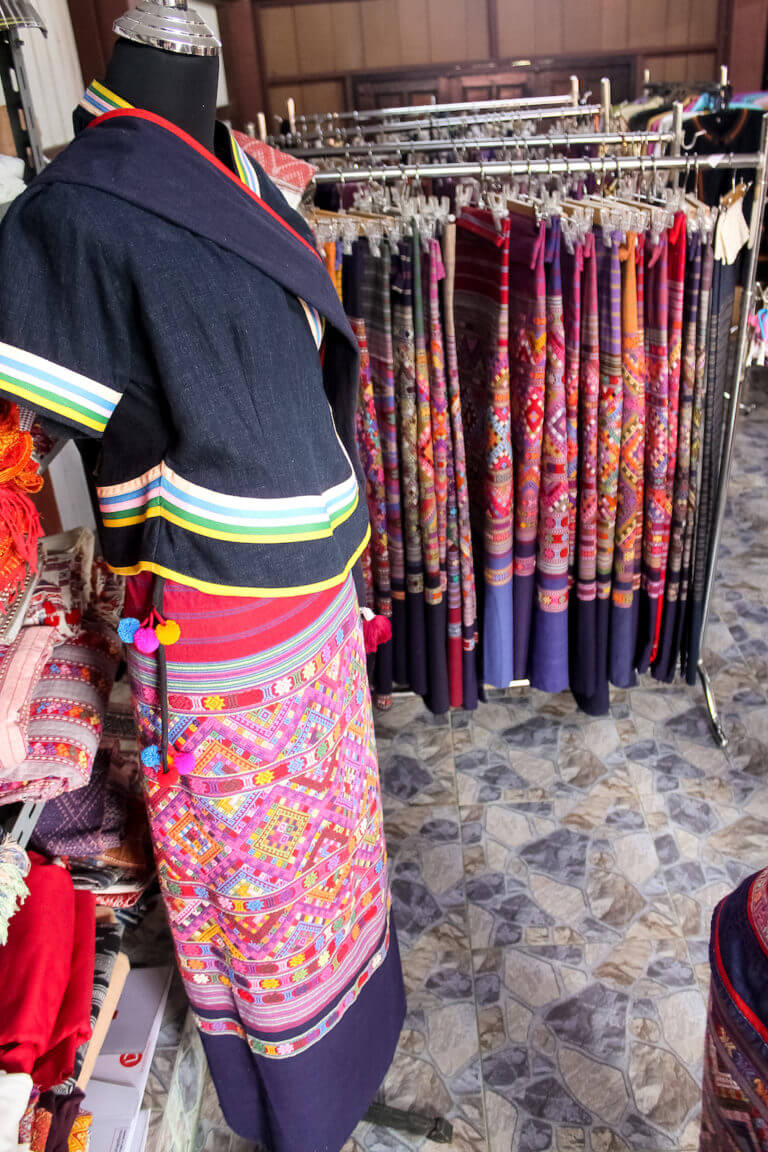 There were so many beautiful handwoven items to choose from at the Sukhawadee Tai Lue Textiles center. The prices are based on the time it took to make the piece. The prices were very reasonable considering all the work that goes into creating each one.
Food in Chiang Rai, Thailand
We ate A LOT all throughout the trip. When we weren't trying regional foods at impressive restaurants we were stopping at road stalls to sample local snacks. I don't think I felt hungry once for three straight days.
Here's a look at some of the things we ate along the way:
We tried two types of pineapples. The small ones were especially sweet!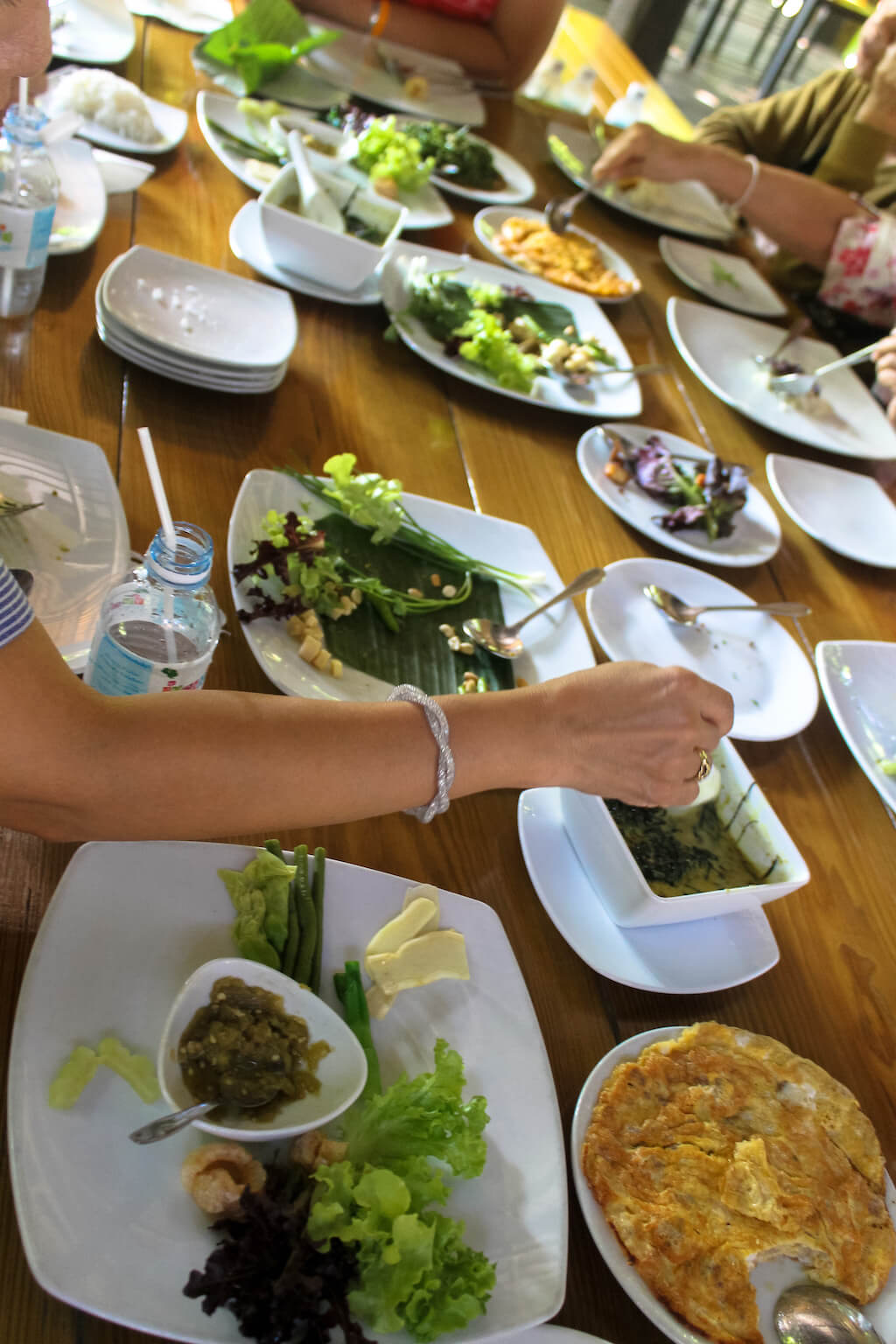 We had a delicious meal at the restaurant at the Prince Chakraband Pensiri Center for Plant Development. We also toured their gardens where all of the vegetables we ate were grown.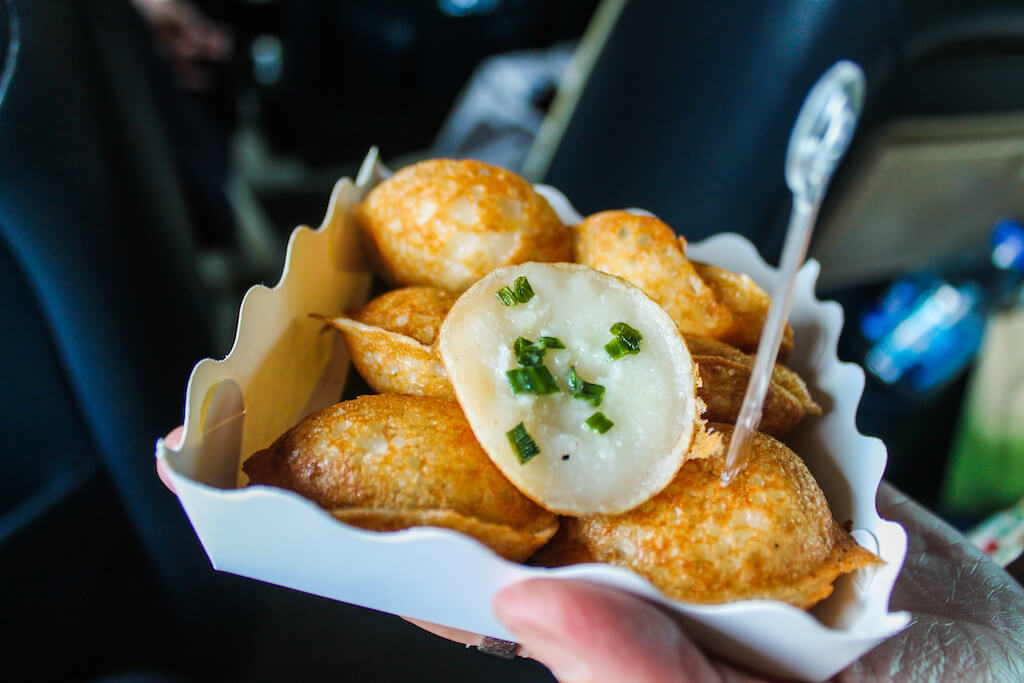 We passed around these chive and coconut snacks in the van.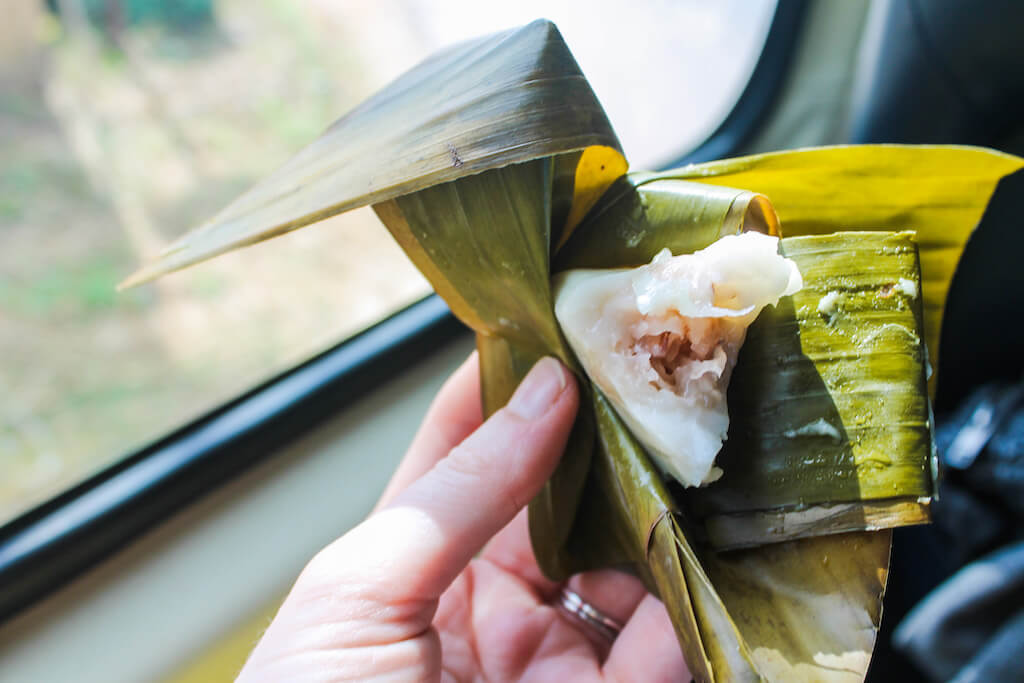 These sweet snacks were steamed inside banana leaves and filled with coconut and palm sugar.
The Golden Triangle and Lookout Point
A highlight of the trip for me was going to the infamous Golden Triangle.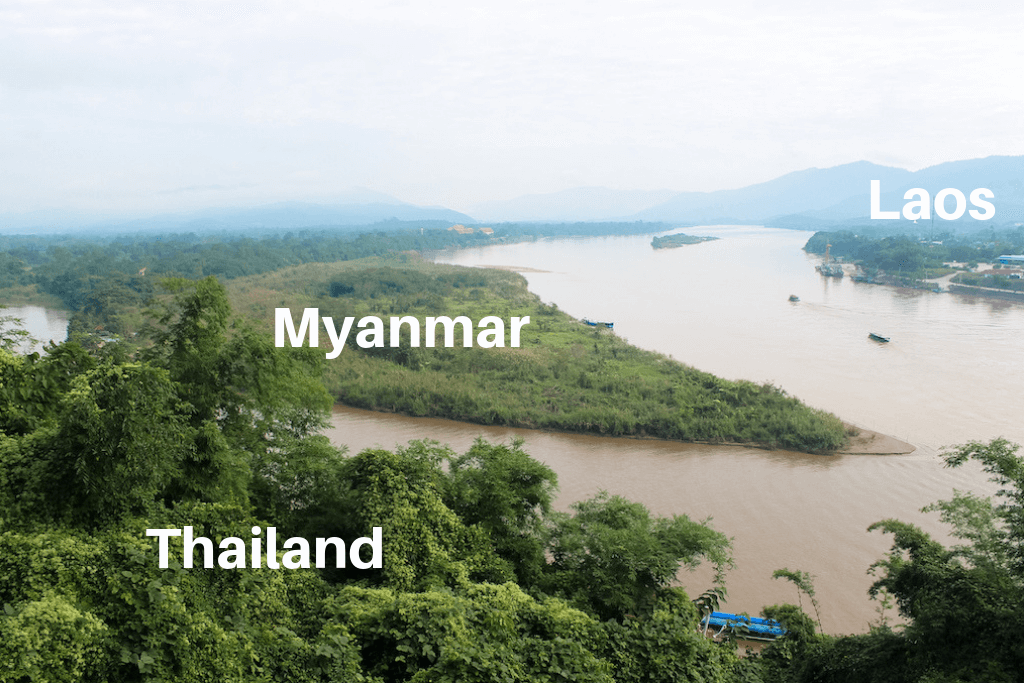 The Golden Triangle is the point where Thailand, Myanmar, and Laos meet and where the Mekong and Ruak rivers connect. From everything I'd read about the area being a former major drug trafficking point during the opium wars, I was expecting seediness and a border town vibe.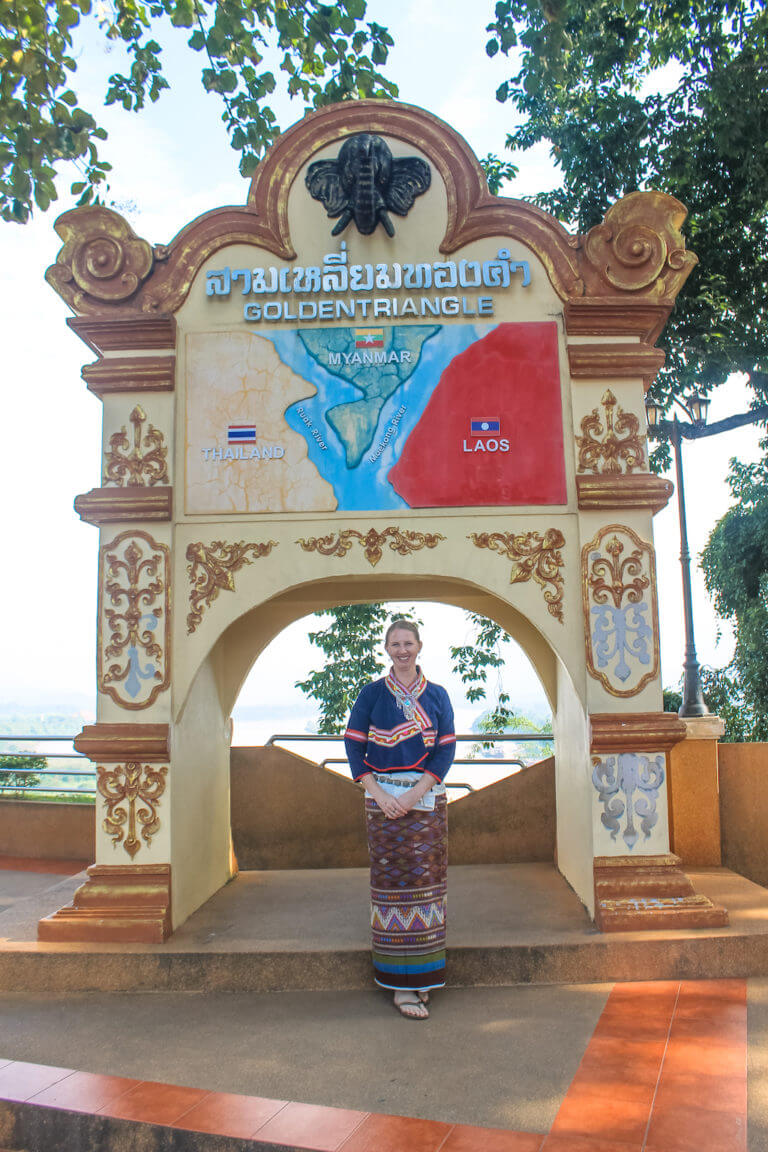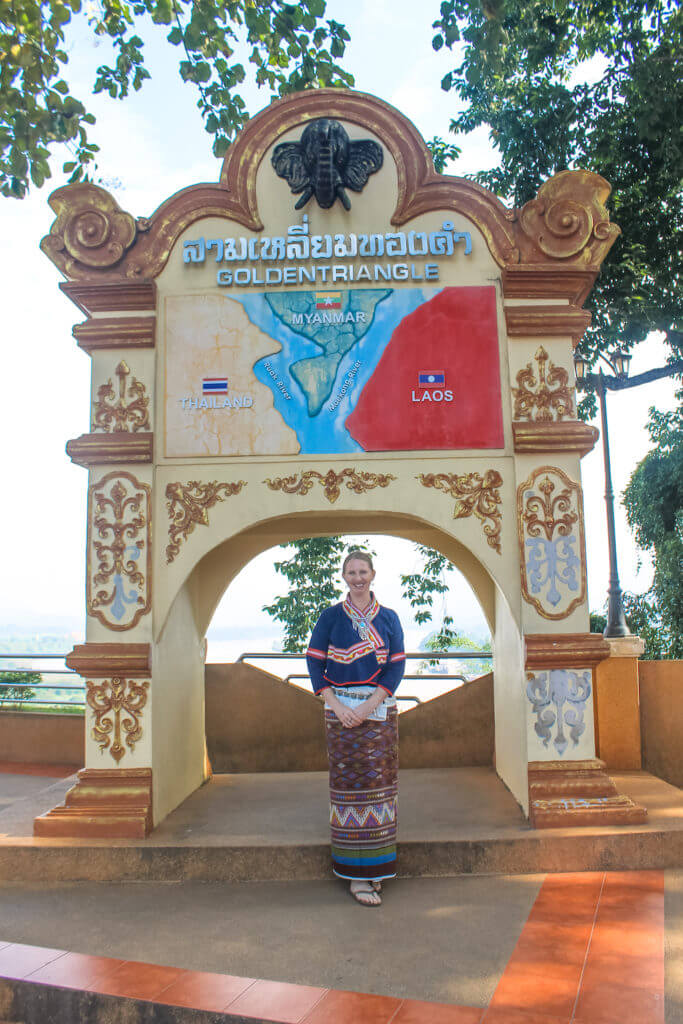 It was actually quite peaceful and clean there. From the lookout point on the top of the hill, you can see all three countries.
There are a few casinos on the Myanmar, Thai, and Laos sides.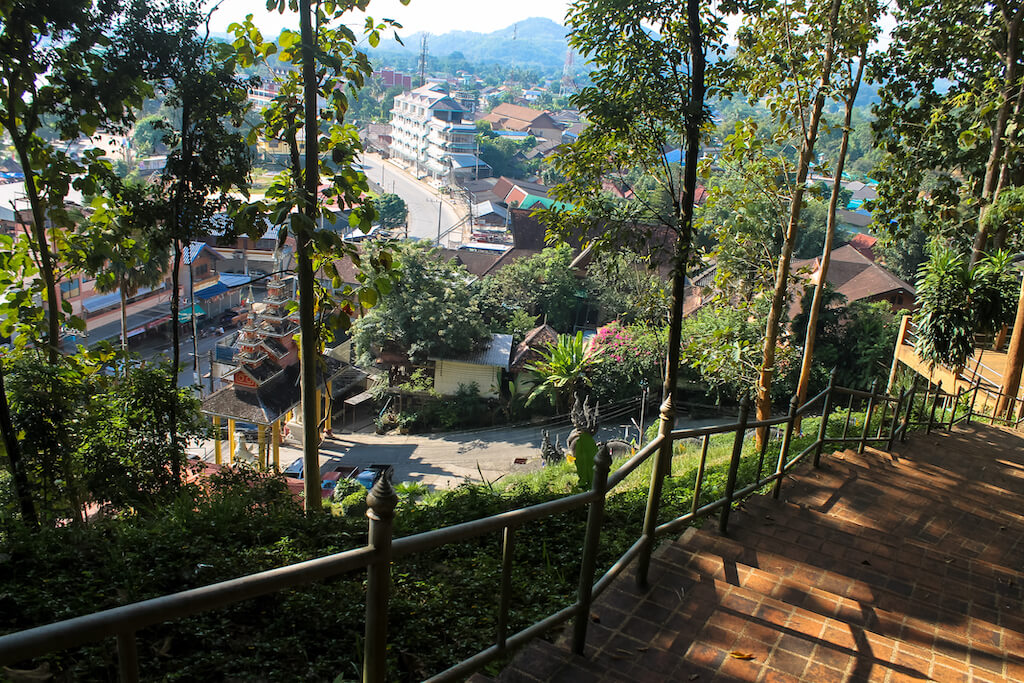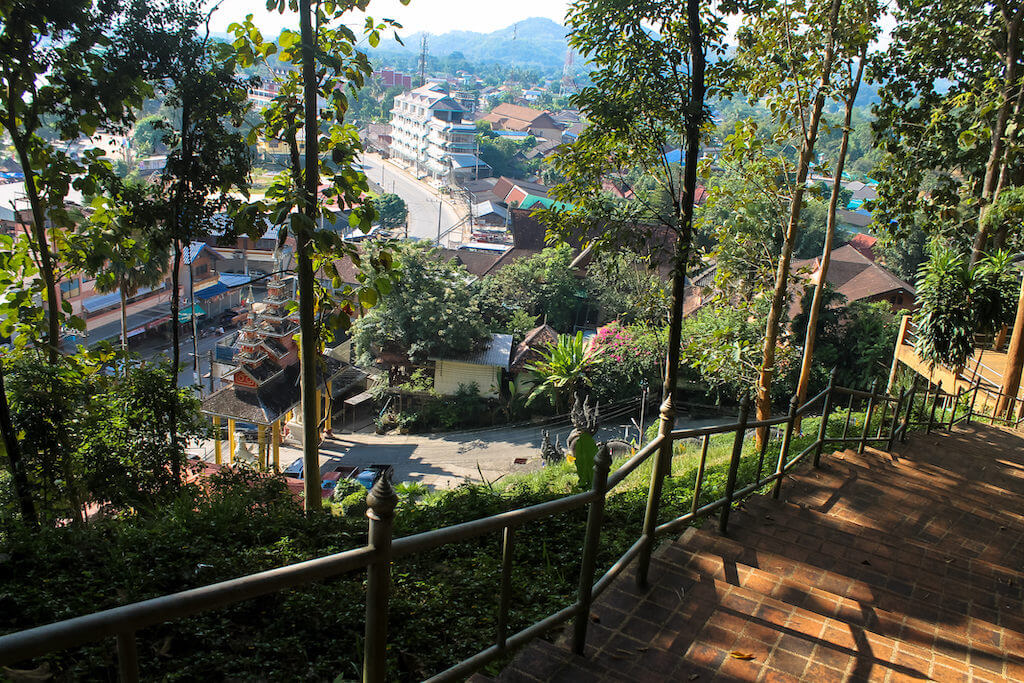 I recommend driving up the hill to the lookout point and then walking down if you can. It's a steep descent down many stairs, but the temples along the way are worth seeing.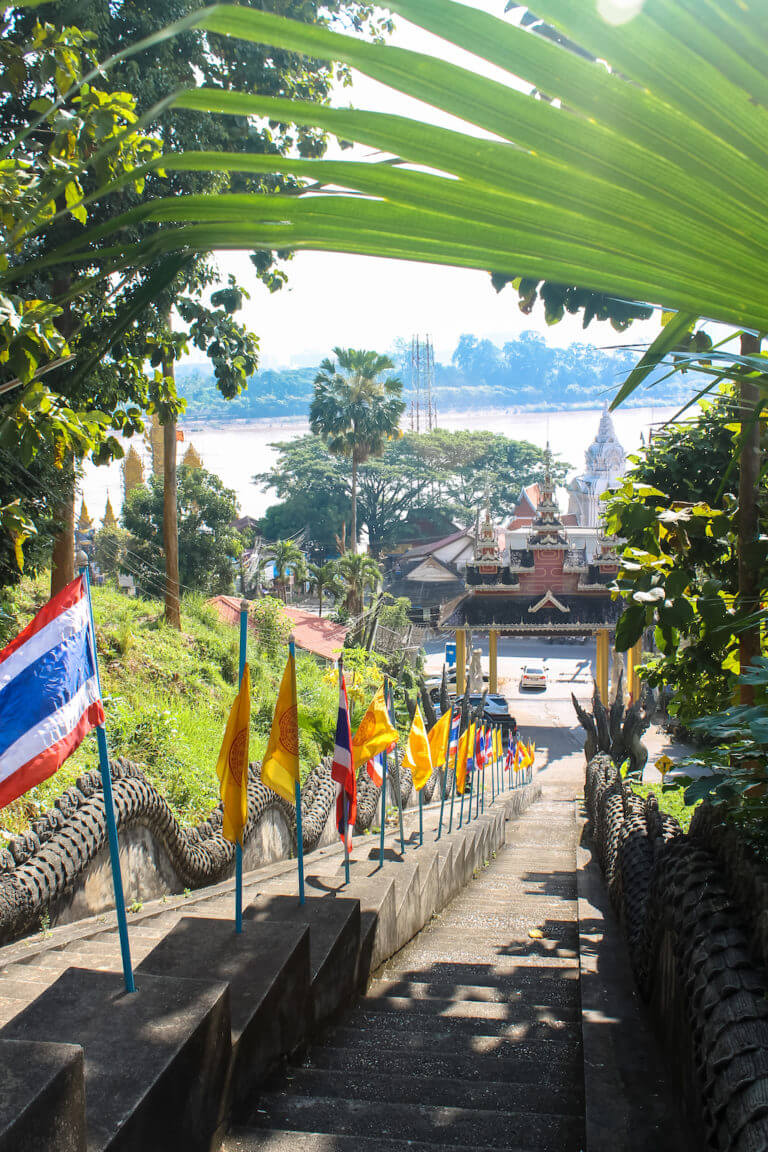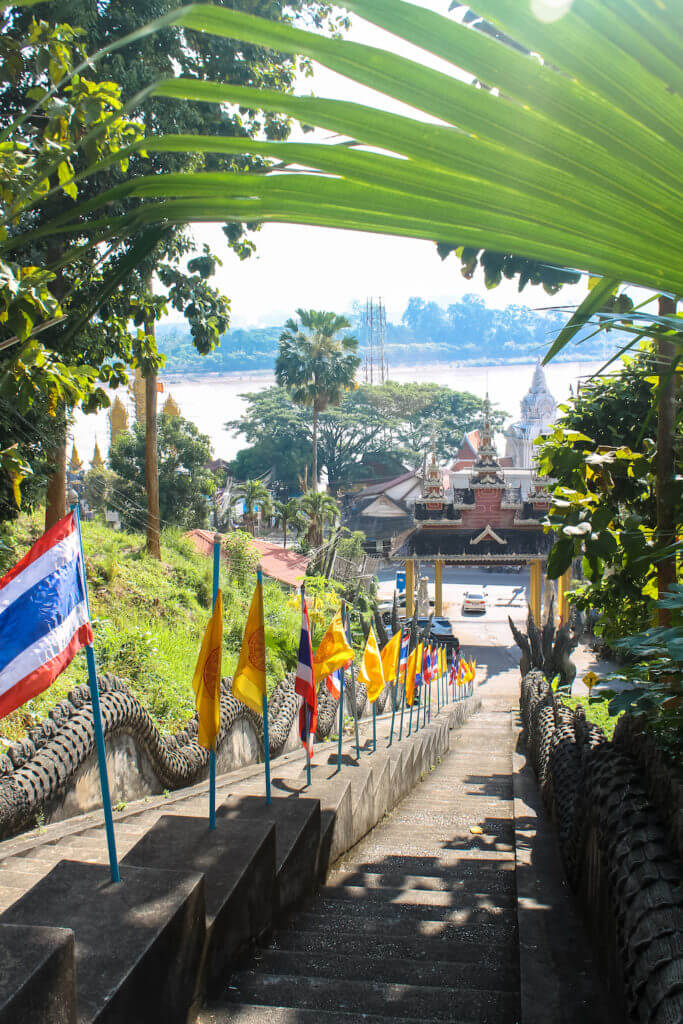 Where to stay near the Golden Triangle in Thailand
We were staying at the Serene at Chiang Rai Hotel just a few minutes walk from the Golden Triangle. It was very quiet and pleasant in the evenings in that area. The rooms and facilities were lovely and there was a great buffet breakfast along the river.
There are several other hotel options near the Golden Triangle. Check out options and prices for your dates.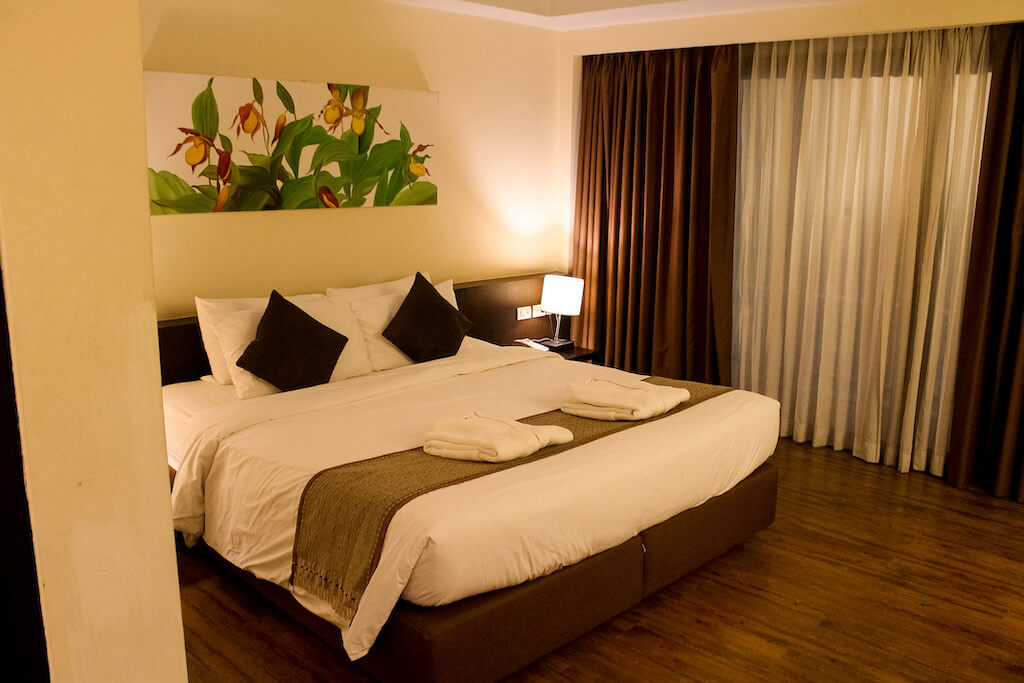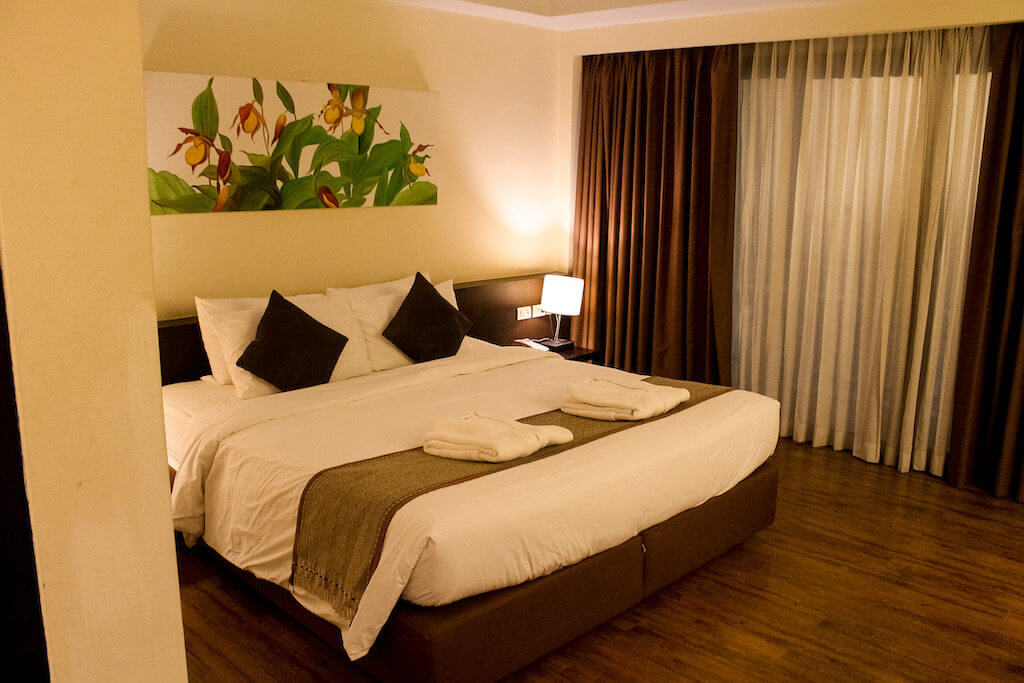 More Food in Chiang Rai, Thailand
We went for dinner nearby at the Golden Triangle Thai Kitchen Restaurant.
Pee Mam had bought some fern-like vegetables none of us could identify at the gardens where we'd had lunch earlier in the day. The cooks at the restaurant were happy to cook them up for us along with the rest of our meal. They were pretty weird.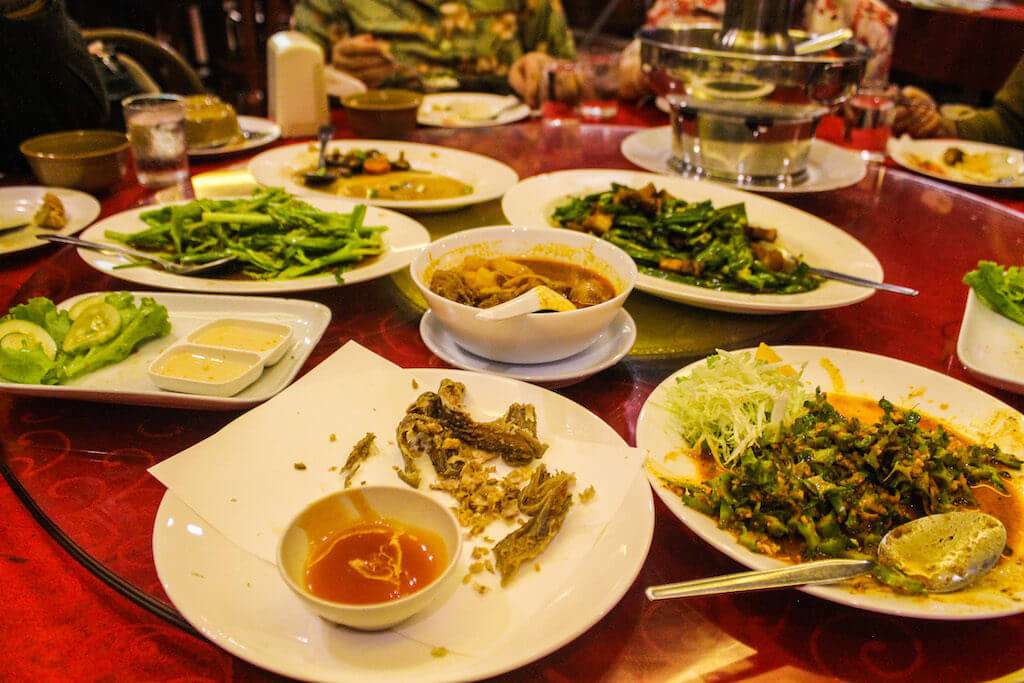 A Wooden Burmese Temple in Chiang Rai, Thailand
On our way back to Chiang Rai city, we stopped at a Burmese wooden temple.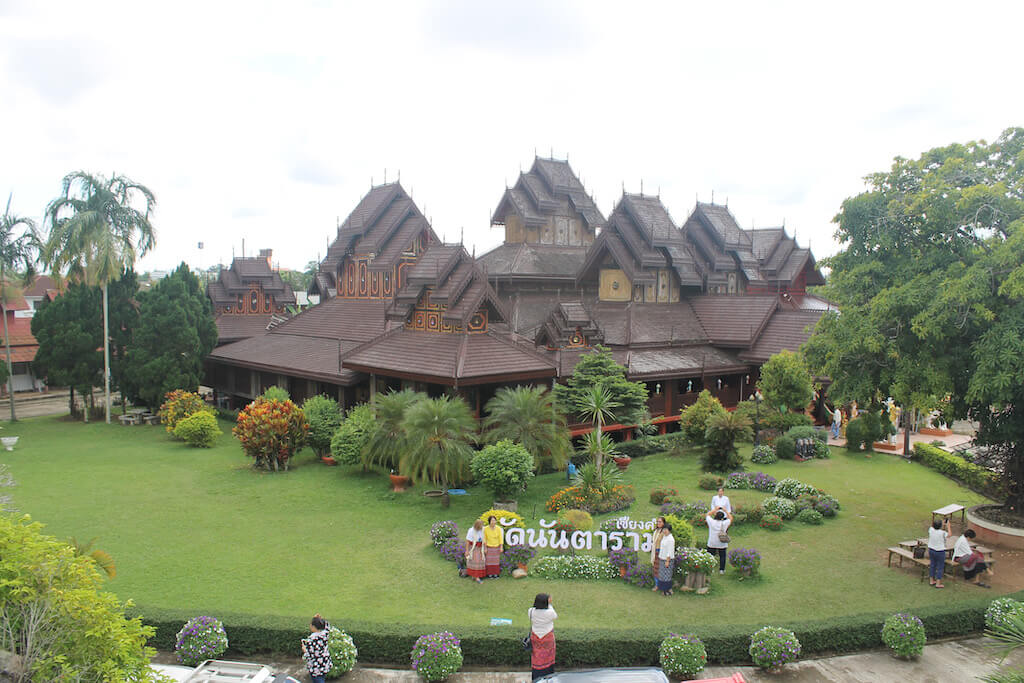 There was a big collection of items that had been donated over the years at the back of the temple, including lots of electronics. It was fun to look at everything there, almost like a museum of outdated technology.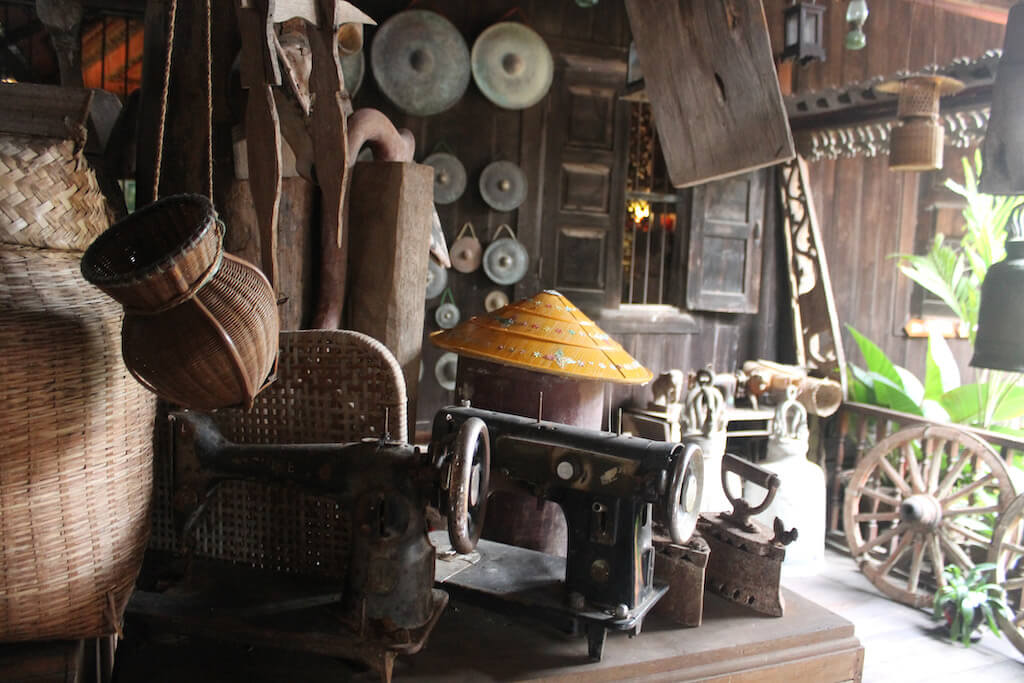 Lunch at an Organic Farm in Chiang Rai, Thailand
As I mentioned, Sunee and Ton love to introduce their guests to local and sustainable projects on their tours. We stopped at Rai Ruen Rom Organic Farm for a delicious lunch loaded with vegetables grown at the farm.
You can also stay at Rai Ruen Rom in their beautiful tents on the farm.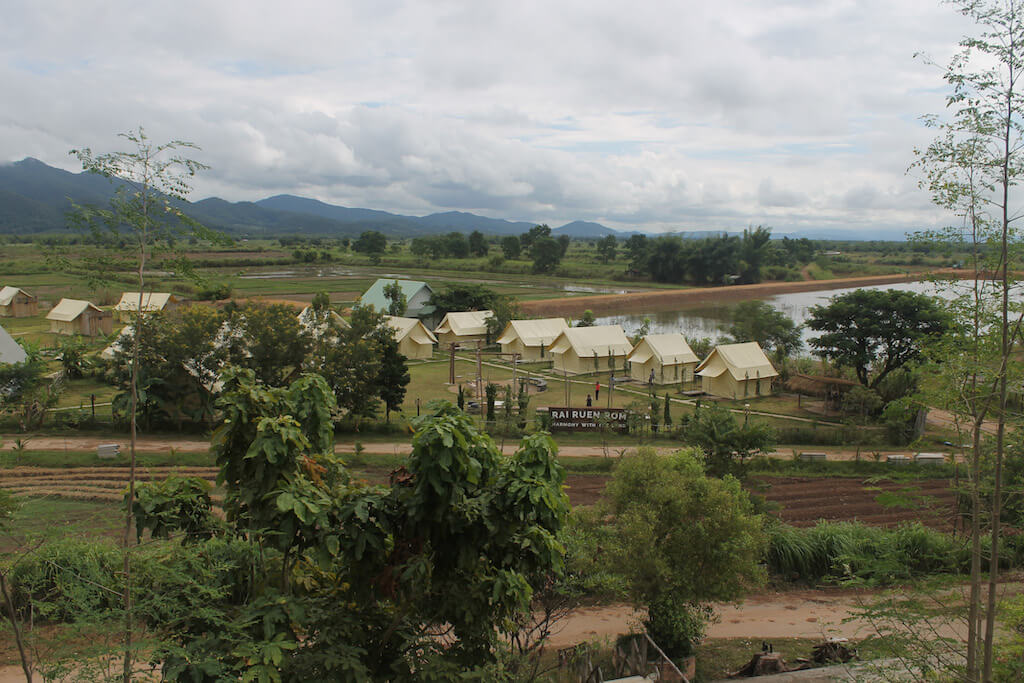 This post is getting really long, and there are several stops I've left out such as our visit to the Tai Lue Culture Museum, lunch along the Mekong River and a beautiful dinner back in Chiang Rai city, and our stop at the White Temple on our last night.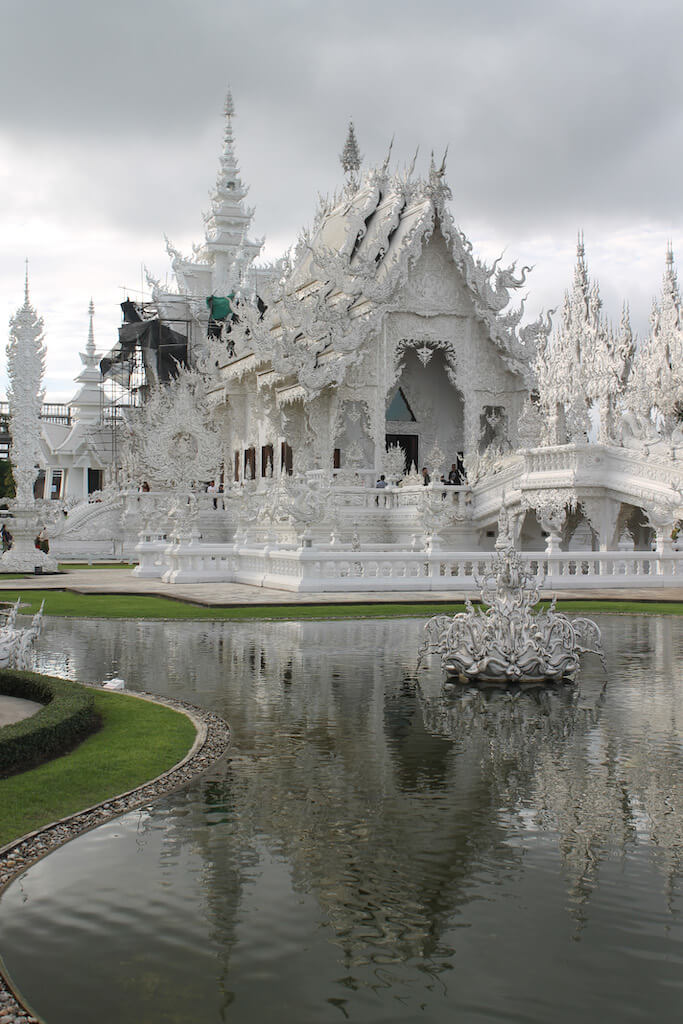 You can click this link to read a bit more about my experience at the Kathina Festival. 
Although Stevo and I had been to Chiang Rai before, going on a tour with Sunee and Ton was an eye-opening experience. I got to learn more about the people from Thailand's hill tribes, local textiles, and go to the Kathina festival. I saw parts of Chiang Rai province that I wouldn't have known about and couldn't have accessed without being on this trip.
If you're looking for an opportunity to get off the beaten track in Chiang Rai province and go beyond the main sites like the White Temple and Black House, I definitely recommend contacting Sunee and Ton. They offer different tours all throughout Thailand, including bespoke tours if there is somewhere specific or off the beaten track you want to go.
I am so grateful to Sunee and Ton for inviting me on this once-in-a-lifetime experience, and to all of the women in our group and who we met along the way who made me feel so welcomed. 
Want to see more of northern Thailand? Check out these articles: 
Motorbiking in Chiang Rai, Thailand: White Temple, Black House, and a Waterfall
15 Awesome Things to Do in Nakhon Phanom, Thailand
Visiting Ban Mae Klang Luang Village in Northern Thailand
Things we Love About Mae Salong
---
I was invited as a guest on this Chiang Rai tour with Planwa Co. Vacation Asia. As always, all opinions are my own. If you have any questions about traveling in Thailand, feel free to leave a comment or schedule a 1:1 call with us. 
---
Read more

: The Only Falang on a Chiang Rai Tour in Northern Thailand