This article may contain affiliate/compensated links. For full information, please see our disclaimer here.
---
In early 2017 Stevo and I spent a weekend at Eden Eco Village in Kampot, Cambodia. Both mornings we were there I was the only student in Chardé's 7 AM yoga class on the deck above the river. We chatted before and after class and I learned that she was there on a work-trade, staying and eating for free in exchange for teaching yoga and serving food. She also runs an awesome yoga website, Namasté Con Chardé. Chardé's story opened our eyes to these types of work-trade opportunities, and we knew we had to share it with you! 
---
Pin this interview for later!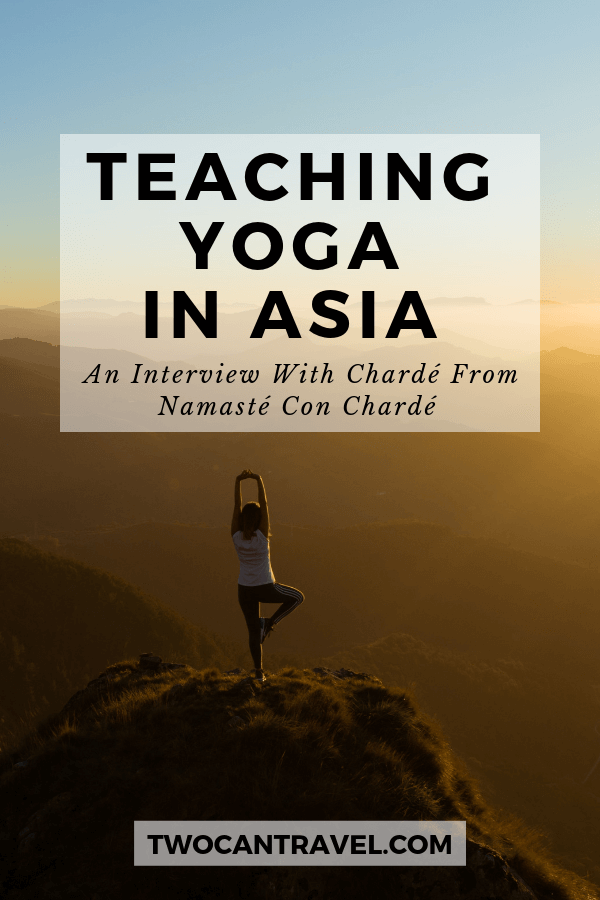 Tell us a bit about your background. Where are you from? What did you study? Where did you work back in the US? Did you have a yoga job in America?
I'm from Dallas, Texas where I grew up. I studied Marketing and Advertising at The University of Texas at Arlington and graduated in 2013. Before traveling to Cambodia, I worked in marketing at The University of Texas where I lived in Austin, Texas.
How did you first get into doing yoga?
I first got into yoga in college because one of my friends was into it and before we would workout she would always do yoga, so I started to join. It started as a pre-workout for me until I understood the mental benefits. When I started attending the yoga class, it provided space where I felt compassion, empowerment, strength, peace, and at ease with life. This was (and is) just what I needed and something I try to share in each of my yoga classes.
When and where did you get certified to teach yoga?
Last year I completed my Vinyasa Yoga teacher training in Austin, Texas at Yoga Yoga.
How did you end up getting a yoga job in Cambodia?
I started applying to places around the world because I knew I wanted to not only teach yoga abroad but travel as well. One summer in college, I lived in Costa Rica near the jungle and was looking to return to somewhere jungle-like surrounded by nature. When it was time for me to choose between places, I researched Kampot and Eden Eco Village and knew this would be the best decision for me.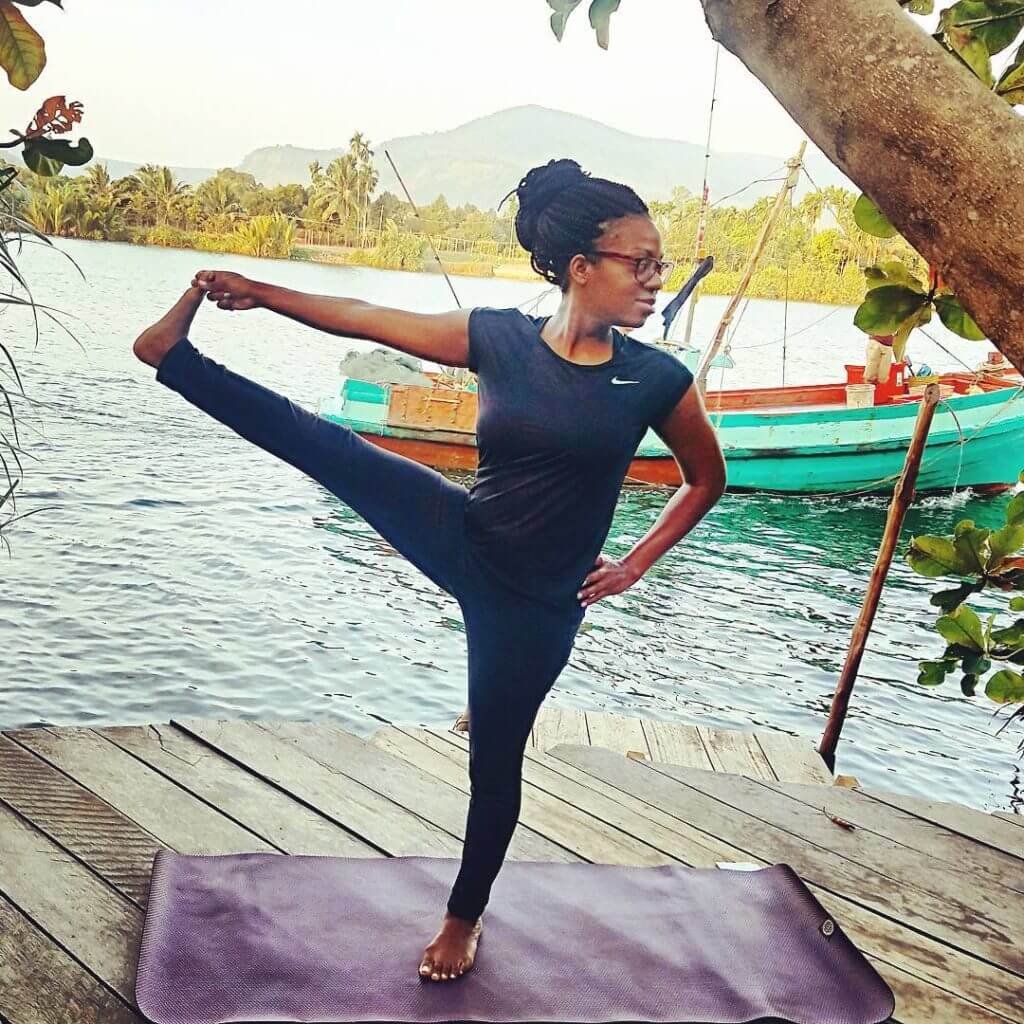 Had you been to Asia before?
I had never been to Asia before coming here but always wanted to. On my way over to Cambodia, I stopped in Japan for a little bit and that was my first experience with Asia. Japan and Cambodia are so extremely different, but both rich Asian cultures I'm fortunate enough to have experienced.
What is Kampot, Cambodia like? 
Kampot is very laid-back and chill (just like I like it). The river runs right through the town, so water activities are abundant and plenty. I've heard that while in other places you visit to "do" things, in Kampot you visit to just "be."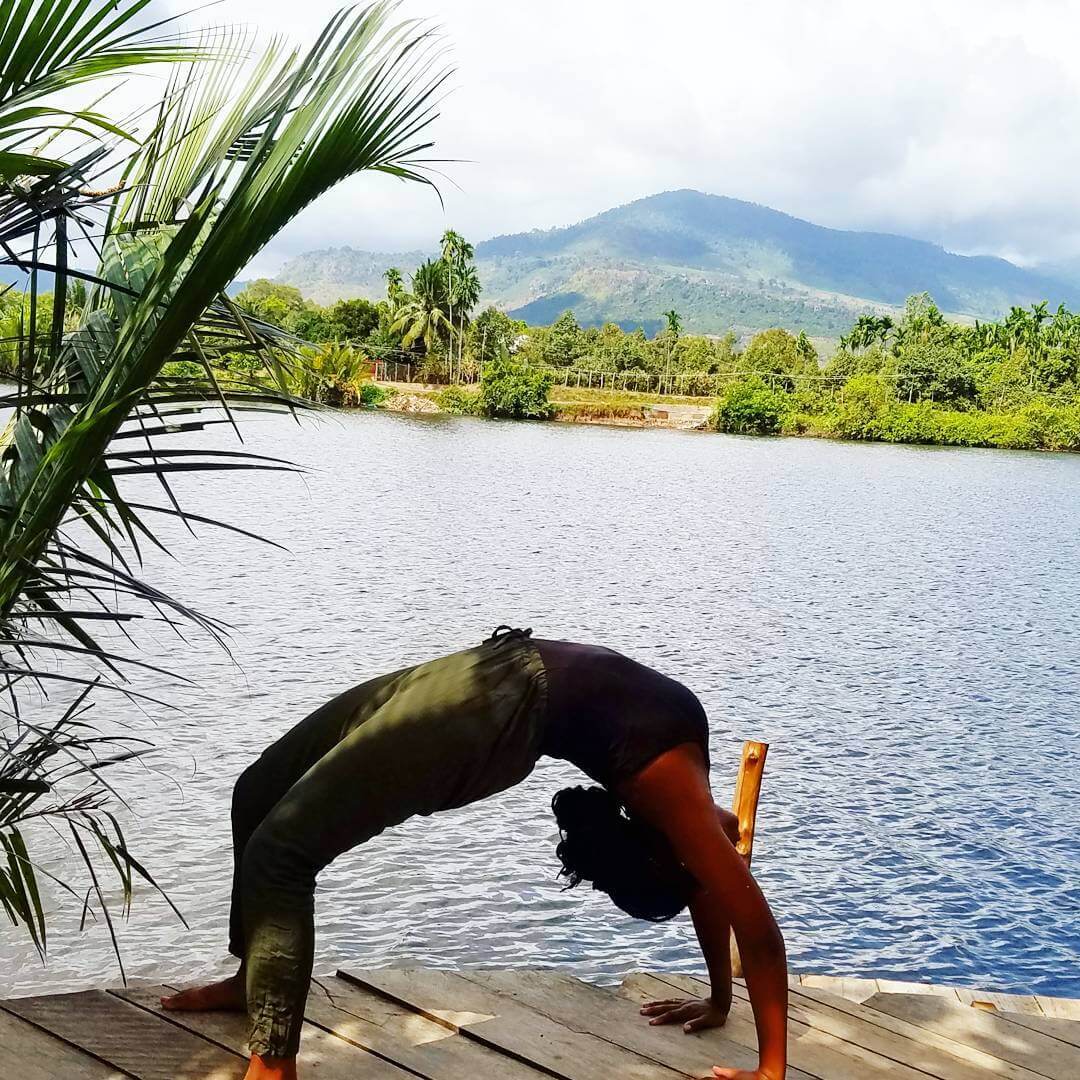 What is it like where you live at Eden Eco Village?
Eden is very quiet and secluded, set about 5 km out from town. The bamboo bungalows sit on the water with a breathtaking view surrounded by nature. It truly is one of the most beautiful places I've ever been and the fact that it is eco-efficient is a plus. A lot of the food served at Eden comes from the plants and animals that live on the property.
What is a typical day like for you?
A typical day for me starts at 5 am. I start my day with a personal yoga practice & meditation on the river deck watching the sunrise and listening to the fishing boats. At 7 am I teach a morning yoga class on the river deck where I'm always joined by my most consistent yoga student Ava, the dog that lives at Eden. After class, I help serve guests breakfast until around 11 am. After breakfast, I like to read/write, then I try to do some sort of outdoor activity; whether that's kayaking up the river, biking through the village, or taking a walk to one of the pagodas. I'm free until 5 pm when I help with dinner and clean-up, then go to bed around 9 pm.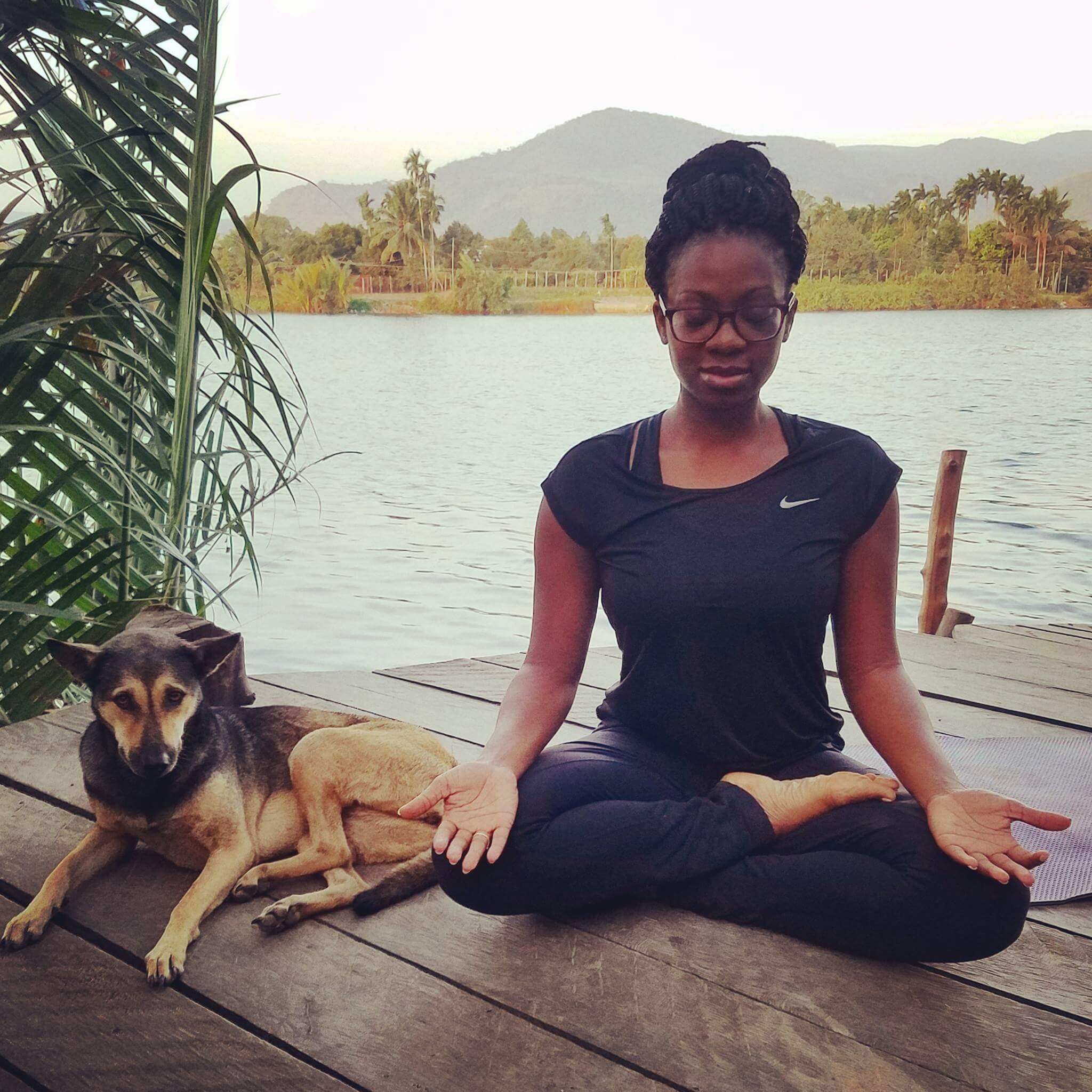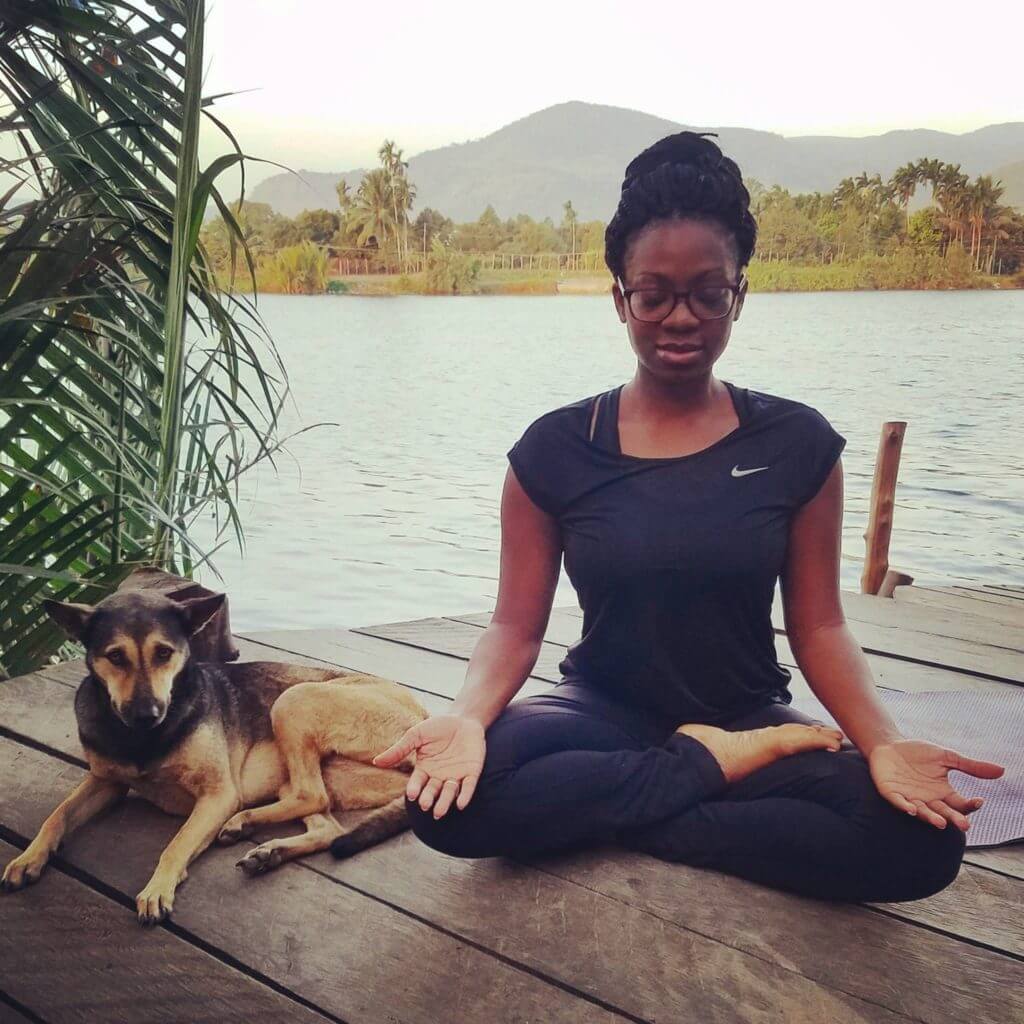 What do you do in your free time?
Read, write, kayak, explore the village, work on my yoga website, Namaste Con Charde, Skype family & friends back home, bike ride, swim, and walk around in town.
What are your favorite things about being there?
Being surrounded by nature is truly one of my favorite things. To me, the river has a very healing quality to it, so being able to be surrounded by it constantly is awesome.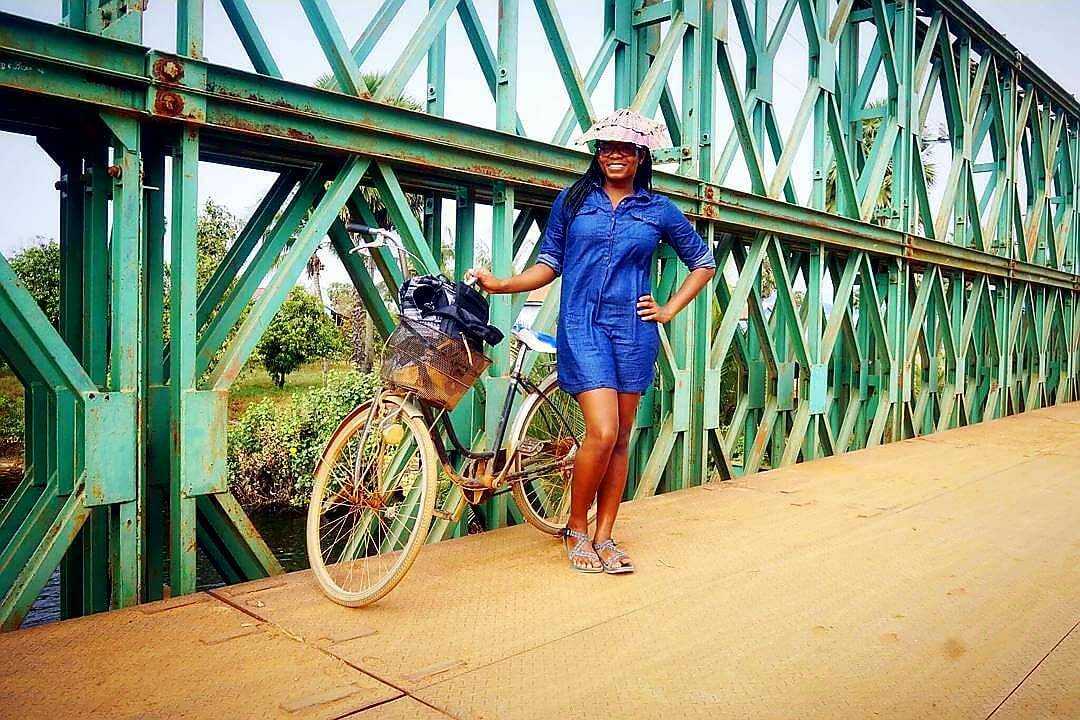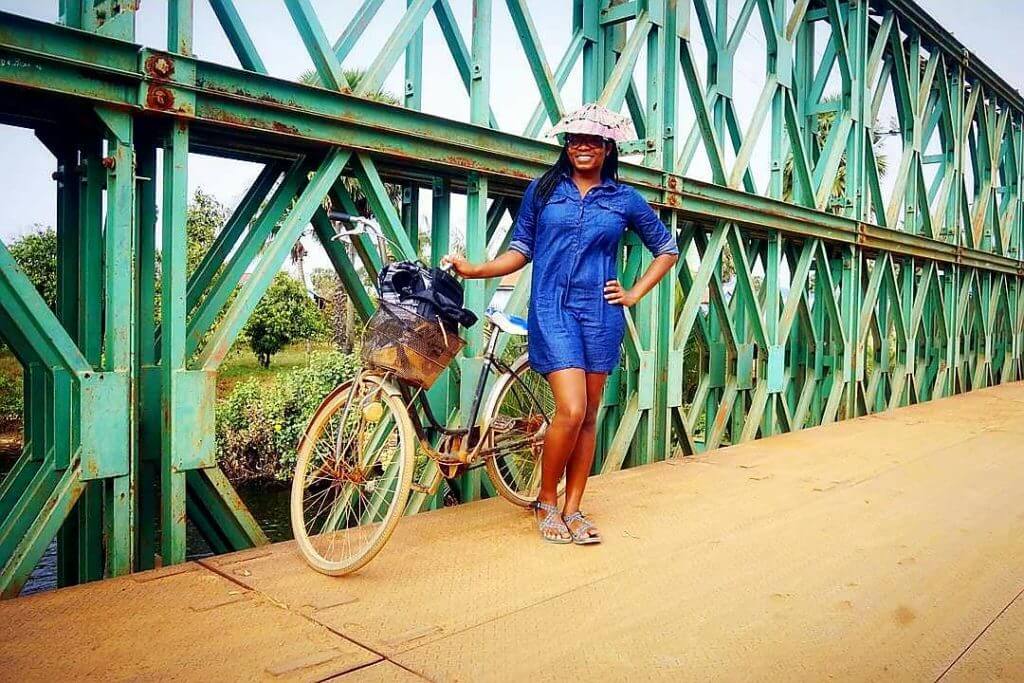 Do you ever miss home? How do you cope with homesickness?
I do miss home, but with the advancement of technology, I can Skype & chat whenever so it helps.
Do you get paid for teaching yoga? Do you get room and board, food, etc?
I'm on a work-yoga-trade, so instead of getting money I stay and eat for free in exchange for teaching yoga and helping out around Eden.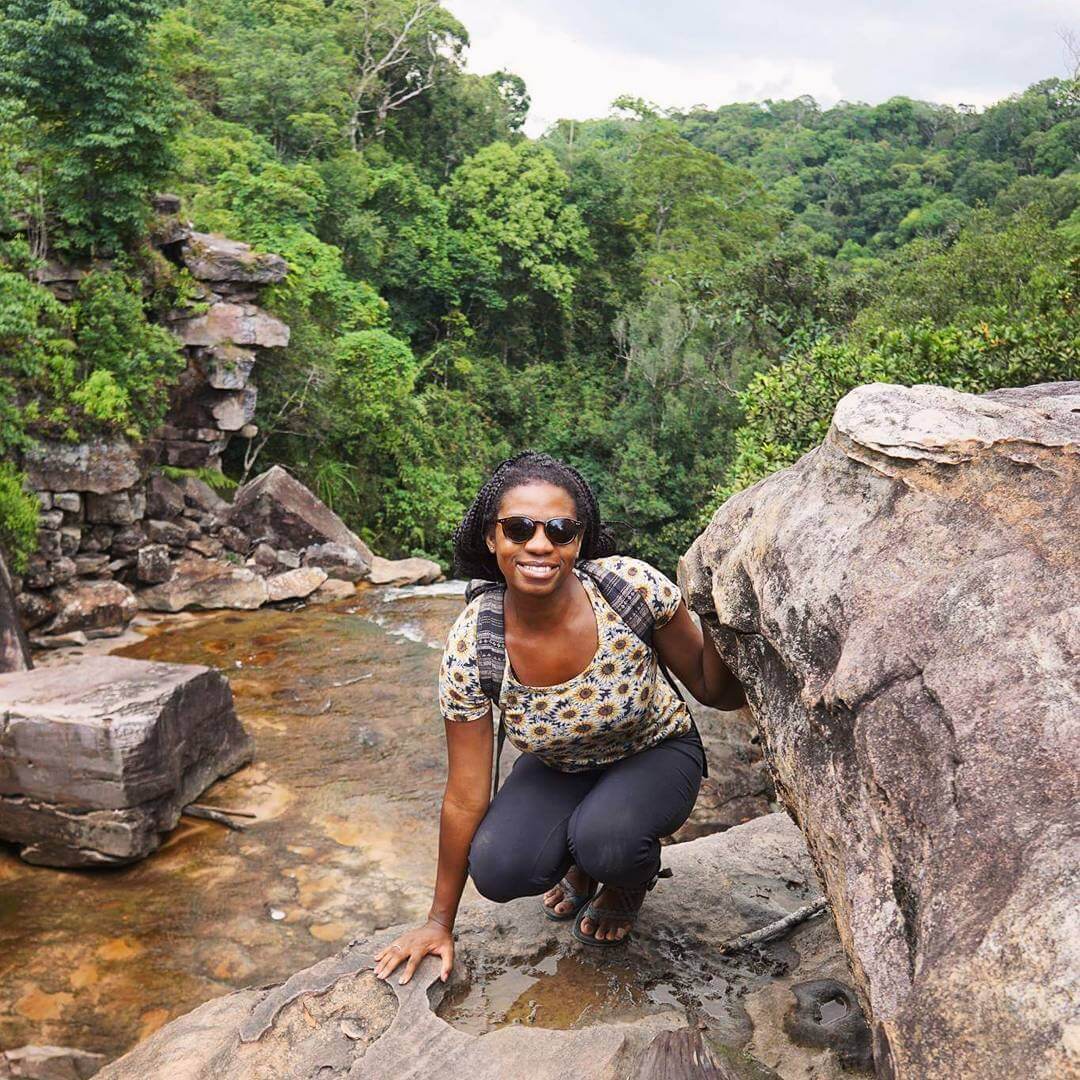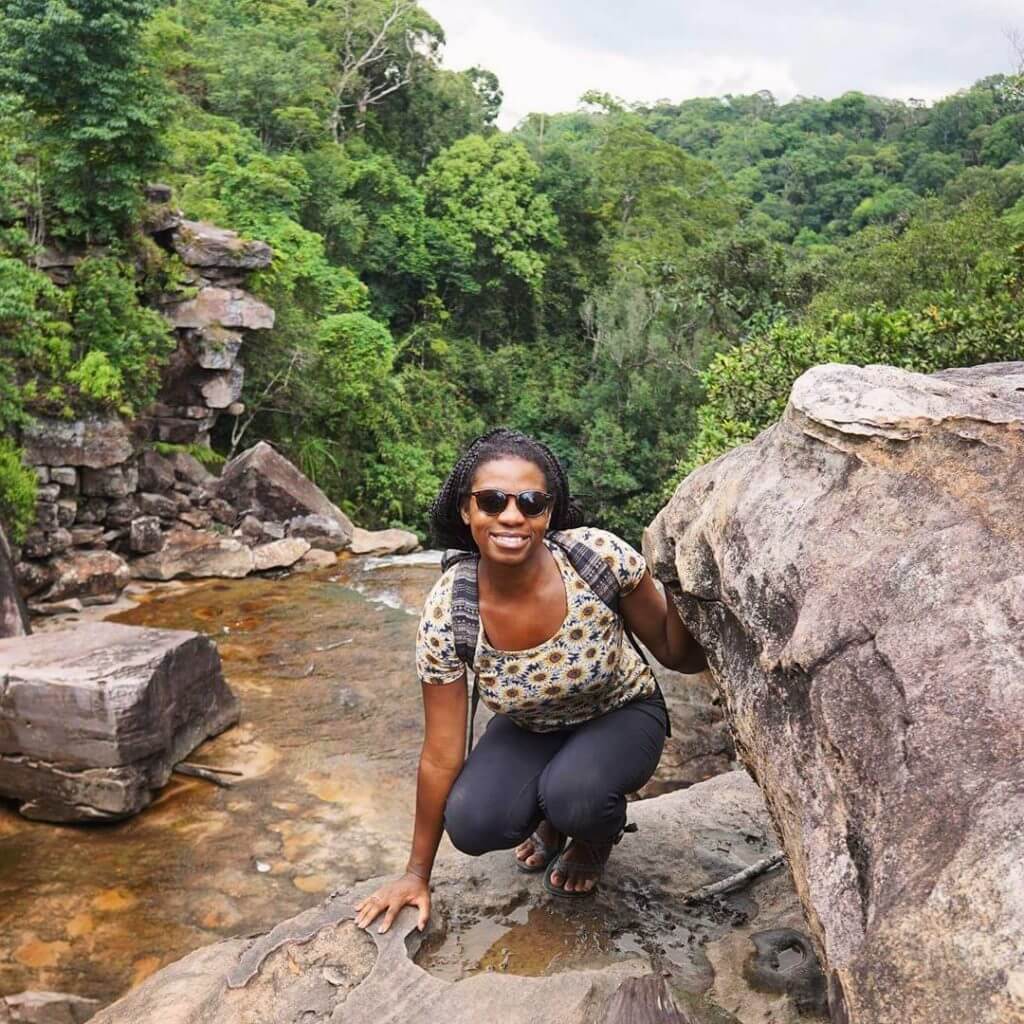 You have a great yoga website! What is it about? When did you start it and why?
Thank you! I've worked really hard on my website to circulate peace, love, and happiness one yoga pose/quote at a time. I couldn't have designed and published this website without Prodevers, one of my friend's business from home.
The two of us started Namaste Con Charde this year (2017) to connect my friends, family, and people I've met around the world to one big community of wellness. For more than just yoga, I wanted to create a space where we discuss mental, spiritual, and physical wellness and how all that fits into our everyday life.
How long do you plan to stay in Kampot? What's next for you?
I'm only in Kampot for a few more weeks until I'm off to France. I'll be teaching yoga and helping turn a castle into an eco space for yoga and meditation.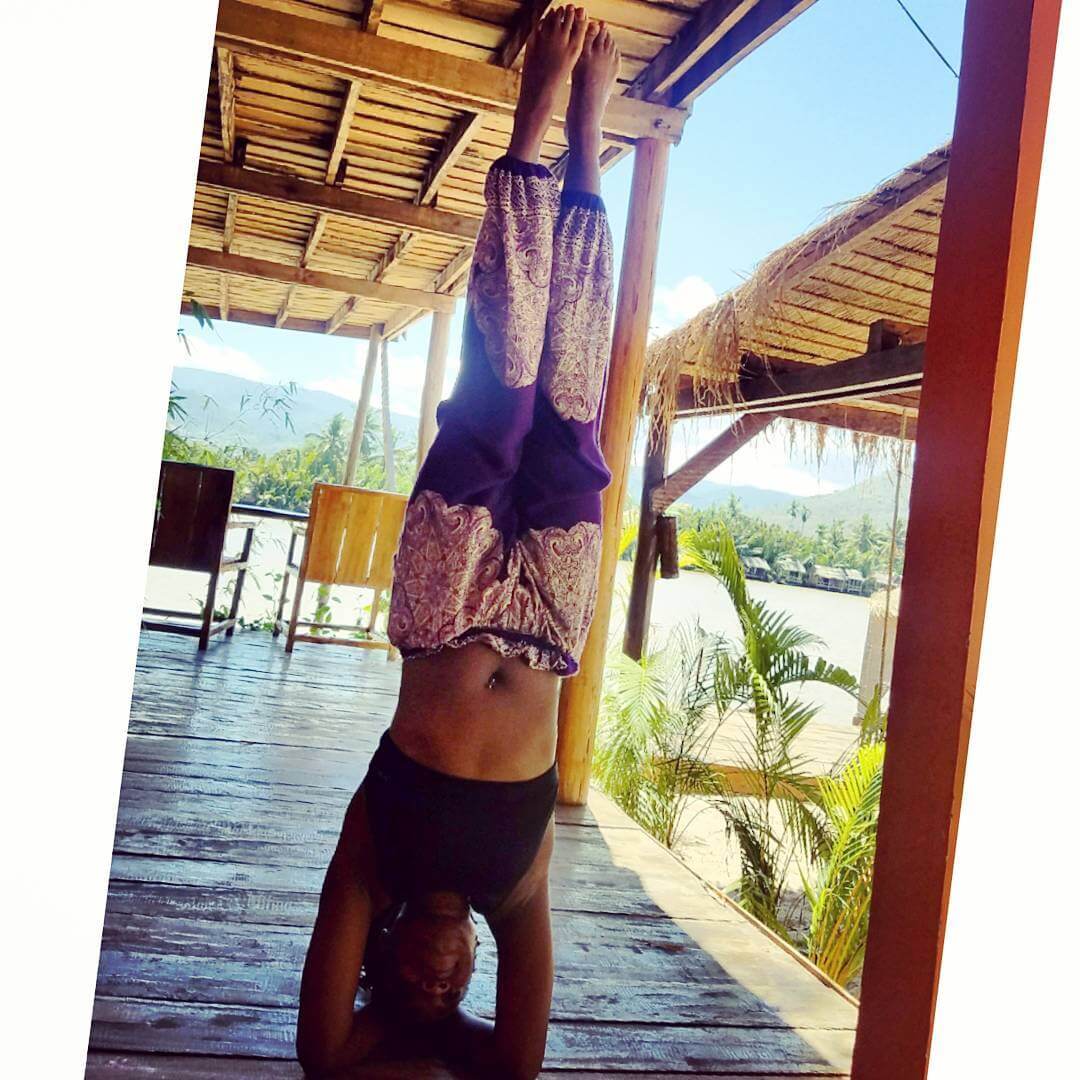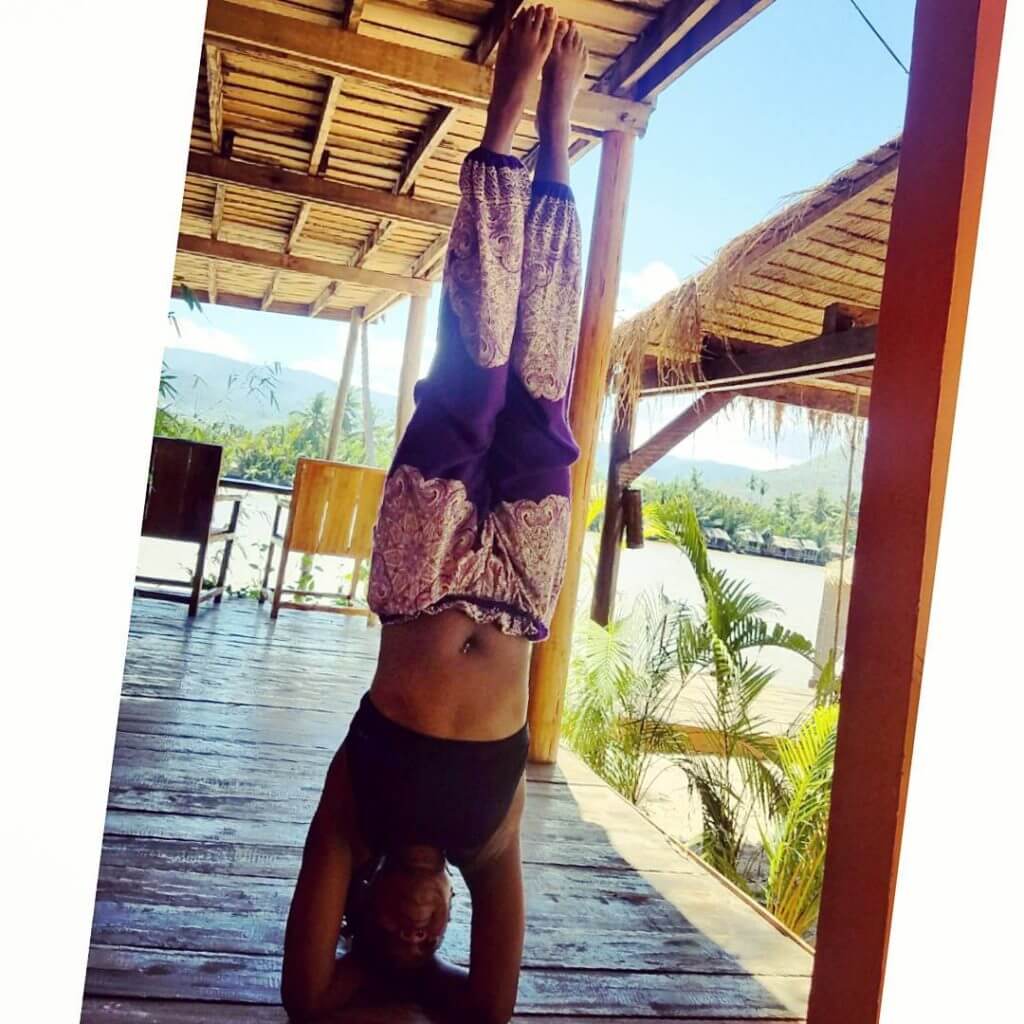 What advice can you give to someone who wants to teach yoga abroad? How can they do it?
My advice—Jump and figure out how you're going to land on the way down! Of course, you need to plan and figure out where you'll stay, how you'll get there, and figure out the logistics of a cross-country trip, but for the most part getting fear out of your head and allowing yourself to just go for it is the biggest obstacle to get over.
Once I finally made the decision that I was going to travel and teach yoga, everything else fell into place. The hardest part was believing that I could do it and knowing that I was strong enough to be alone in a foreign country. I applied to a lot of various places around the world on www.YogaTrade.com so that my options were open and I kept an open mind. If you want to teach yoga abroad there are so many places that want and need help so opportunities are endless. 
---
Like this interview? Pin it for later!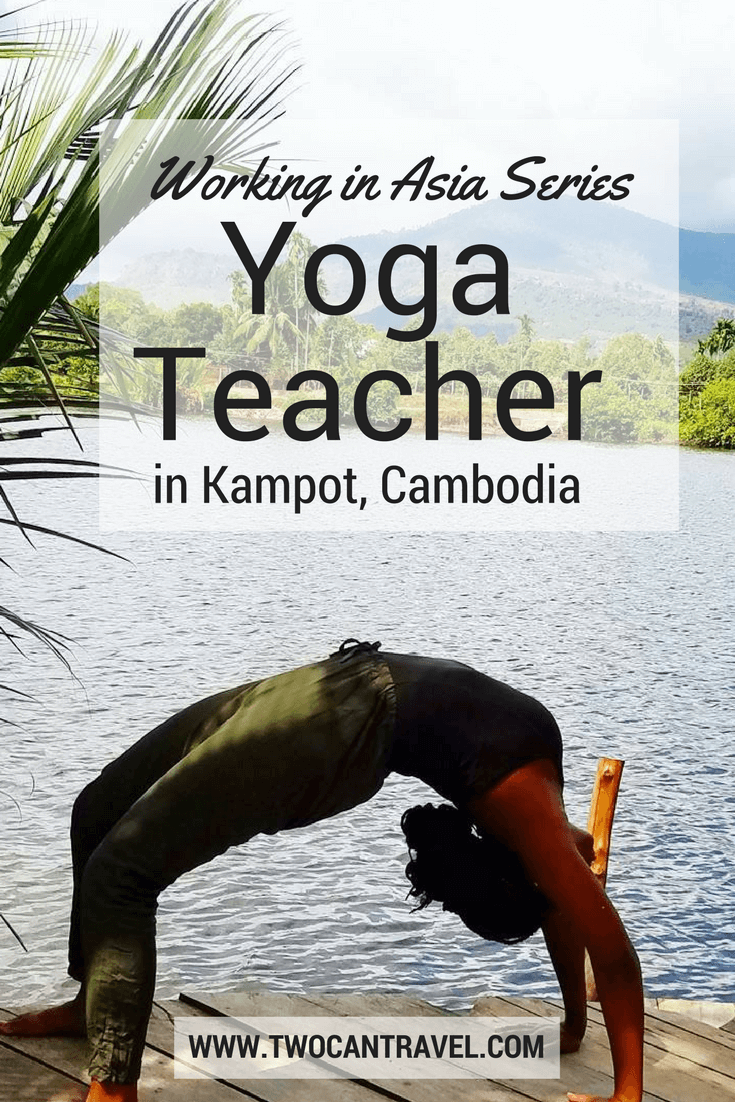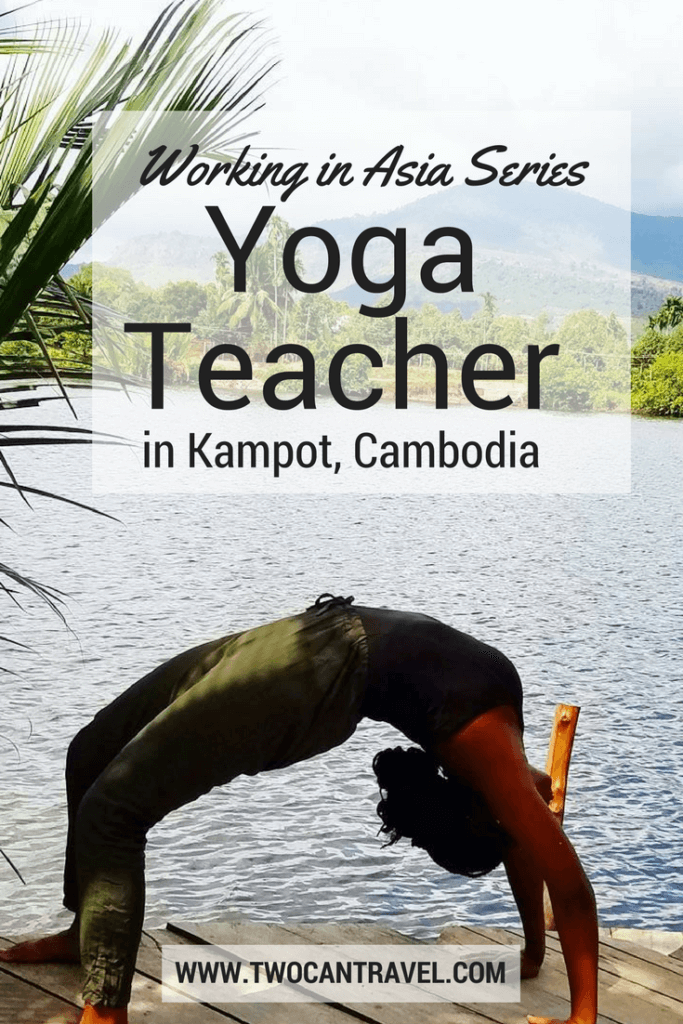 ---
A big thank you to Chardé for an inspiring interview! 
---
About the Author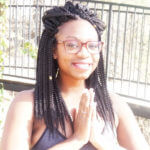 For Chardé, yoga class provided space where she feels compassion, empowerment, strength, peace, and at ease with life.
Even though Chardé is not able to physically be in yoga class with everyone around her, through her website, 
Namasté Con Chardé
, she is able to connect with people all across the world.
Want to catch up on the other parts of the Working in Asia interview series?
---
Do you practice yoga? Have you ever considered getting yoga certified and teaching yoga in Asia or elsewhere?  Share in the comments!
---